| | |
| --- | --- |
| Character sourced from: Gaming | |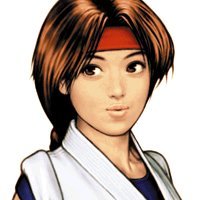 Yuri Sakazaki
CBUB Wins: 1
CBUB Losses: 6
Win Percentage: 14.29%
Added by: RakaiThwei
Read more about Yuri Sakazaki at: Wikipedia
Official Site: SNK
is a video game character from SNK Playmore's (formerly known as SNK) Art of Fighting series. She first appears in the original Art of Fighting being kidnapped by Mr. Big, a criminal from the fictional city of Southtown. The players, Yuri's brother Ryo and his friend Robert Garcia spend the game searching for her. In the second Art of Fighting, Yuri appears for the first time as a playable character, having been trained by her father Takuma in the art of the Kyokugenryu Karate. She has also appeared in most games from The King of Fighters series, with the notable exception of the non-canon The King of Fighters XII, participating in the annual tournaments from each title. She initially starts in the Women Fighters Team (composed exclusively by women), but she later moves to the Art of Fighting Team along with her family. She was also featured in the SNK vs. Capcom crossover series as well as in SNK Gals' Fighters.
Yuri has also starred in the anime adaptation from Art of Fighting, in which she reprises her role from the first game. Her character has been well-received by gamers, having ranking high in several popularity polls developed by journals. Video games publications have commented on Yuri's character; Yuri's addition to Art of Fighting 2 as a playable character has been praised by several reviewers, and some have also complained on her absence in the following title.
In the first Art of Fighting Yuri appears with a pink t-shirt as well as with her ponytail in her hair. In Art of Fighting 2, Yuri appears with her most recurring outfit which made of a white sleeveless gi fighter, a red headband, a blue shirt under the gi, blue gloves and blue tights. Her sneakers of choice are a pair of red Chuck Taylor All-Stars. Several titles from The King of Fighters series had little modifications with Yuri's outfit as she wears red clog-like shoes instead of the red sneakers in The King of Fighters 2000 and 2001. KOF: Maximum Impact marks the first time since Art of Fighting 2 that she has received a new outfit. Such outfit is composed of a green shirt, short pants, dark green gloves and green shoes. In KOF: Maximum Impact 2, some of her extra normal outfits make her look like fellow Kyokugen practitioners; color scheme B makes her look like Ryo (blond hair, orange gi and black tights), while scheme F resembles Robert Garcia's outfit from The King of Fighters '99 to 2002, which consists of brown hair, orange gi with black long-sleeved tights, and no headband.
Yuri is the daughter of Takuma Sakazaki and Ronnet Sakazaki and the younger sister of Ryo Sakazaki, who is four years her senior. When she was an infant, her mother Ronnet died of natural causes, leaving Takuma to raise her and her big brother Ryo alone. Takuma dedicated more time to Ryo than to Yuri, as Ryo is to be the heir to the throne of Kyokugenryu Karate, but he did his best to not turn his back on her. Yuri later befriended a new boy who had just arrived from Italy, who is Robert Garcia. As a recurring theme in various games, Robert is in love with Yuri, though Yuri does not take notice. However, by Art of Fighting 3, Yuri starts also to be attracted to Robert, something noted by Ryo. Yuri uses the lowest-grade Kyokugenryu Movelist in the discipline, called the Raiou principle, which taught only the basic and low-level moves and encouraged personal instinct to be used in conjunction with the tutelage. Among Yuri's personally-crafted moves are the Slipstream Handslap and the Big Butt Press. Because of Yuri ability to craft techniques based on basic Kyokugen Principle, Takuma is slowly acknowledging her as a true Kyokugen disciple.





Images with a green border may be set as the character's main profile image.
For images 200x200 or 300x300 pixels square.
No match records for this character.