Mary Shaw

CBUB Wins: 0
CBUB Losses: 1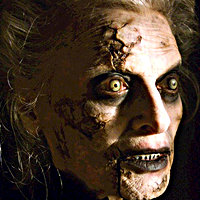 Dead Silence (originally titled Shhhh... and Silence, with alternate title suggestions such as The Doll and Mary Shaw ) is a 2007 horror film, directed by James Wan and written by Leigh Whannell, the creators of Saw. The film stars Ryan Kwanten as the main protagonist, Jamie Ashen, Donnie Wahlberg as Detective Jim Lipton and Judith Roberts as Mary Shaw.
Jamie Ashen and his wife Lisa receive a mysterious ventriloquist doll in the mail, 'Billy', in an unmarked package with no return address. Jamie and Lisa ponder who would have sent the doll. Lisa then remembers a poem she knew when she was younger, about a woman named Mary Shaw:
Beware the stare of Mary Shaw,
She has no children, only dolls.
Read more about Mary Shaw at Wikipedia
Official Site: Universal Pictures
Researched by: Boratz