The Griswolds

CBUB Wins: 1
CBUB Losses: 2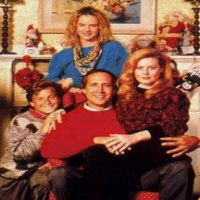 Vacation, sometimes referred as National Lampoon's Vacation, is a 1983 comedy film directed by Harold Ramis and starring Chevy Chase, Beverly D'Angelo, Randy Quaid, Dana Barron and Anthony Michael Hall. The film features numerous others, such as comedians John Candy and Imogene Coca, model Christie Brinkley, and Jane Krakowski in smaller roles.
The screenplay was written by John Hughes, based on his short story in National Lampoon Magazine, Vacation '58 (the screenplay changes the year to 1983). The original story is a (reportedly) fictionalized account of his own family's ill-fated trip to Disneyland (changed to Walley World for the film) when Hughes was a boy. The success of the film helped advance his screenwriting career.
National Lampoon's Vacation was a significant box-office hit, earning more than $ million in the United States with an estimated budget of $15 million. In 2000, readers of Total Film magazine voted National Lampoon's Vacation the 46th greatest comedy film of all time. It is widely considered to be the best film in National Lampoon's series of Vacation films, and continues to be a popular film and a staple on cable television channels. It also currently garners a 94% "fresh" rating on Rotten Tomatoes.
Arriving to pick up the new car he purchased for the trip, Clark is informed by the dealership that the "Antarctic blue super-sports wagon with the CB radio and the optional rally fun pack" he ordered has not arrived. He is then conned into accepting a behemoth Wagon Queen Family Truckster — a hideous metallic pea-green station wagon. The gaudy car is clad in faux wood paneling, excessive bodywork, and features eight headlights. Clark initially protests and refuses to take possession of the car until he learns that his trade-in (a 1971-72 Oldsmobile Vista Cruiser) has already been flattened in a car crusher. "You think you hate it now, but wait 'til you drive it", says salesman Ed (Levy). Arriving home, the engine roughly diesels on after shut off, and the air bag (clearly made from a garbage bag) deploys for no reason. When Ellen questions him, he finds himself repeating the dubious justifications heard at the dealership. Clark brushes off Ellen's last-ditch attempt to persuade him to fly to California instead, and the next morning they depart.
Read more about The Griswolds at Wikipedia
Official Site: Warner Bros
Researched by: agustinaldo