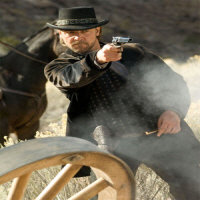 Ben Wade
CBUB Wins: 3
CBUB Losses: 3
Win Percentage: 50.00%
Added by: agustinaldo
Read more about Ben Wade at: Wikipedia
Official Site: Lionsgate
3:10 to Yuma is the 2007 remake of the 1957 film of the same name, making it the second adaptation of Elmore Leonard's short story Three-Ten to Yuma. It is directed by James Mangold and produced by Cathy Konrad, and stars Russell Crowe and Christian Bale. Filming took place in various locations in New Mexico. 3:10 to Yuma opened September 7, 2007, in the United States.
In the late 19th century, Dan Evans (Christian Bale), an impoverished rancher and Civil War veteran, although sitting awake and armed to prevent it, has his barn set ablaze by two men working for Glen Hollander, to whom Evans owes money. The next morning, as Evans and his two sons drive their herd, they stumble upon outlaw Ben Wade (Russell Crowe) and his gang using Evans' cattle as a road blockade to ambush an armored stagecoach. As he loots the stage, Wade discovers Evans and his two sons watching from the hills. Acknowledging that they pose no threat, Wade takes their horses telling Evans that he will leave them tied up on the road to Bisbee.
Wade travels with his gang to the town of Bisbee, Arizona to enjoy a celebratory drink at the local saloon. Meanwhile, the railroad guards find Evans and his sons with Byron McElroy (Peter Fonda), a Pinkerton agent and lone survivor of the ambush. Evans reveals Bisbee as Wade's likely destination, where the guards immediately return, joined by Evans and McElroy. While Doc Potter (Alan Tudyk), the local medic/veterinarian, treats McElroy, Evans tries negotiating with Hollander, who reveals his intentions to sell the land to the railroad rather than grant water rights to Evans. Enraged at the loss of his livelihood, Evans tries confronting Hollander in the nearby saloon where he finds Wade, whom he distracts long enough for the railroad guards to ambush and arrest him.
The coach's owner, Grayson Butterfield (Dallas Roberts), enlists McElroy, Potter, Tucker (Kevin Durand), one of Hollander's guards, and Evans, who agree for a $200 fee to deliver Wade for arrest. From Evans' ranch, McElroy arranges a decoy wagon to distract Wade's gang, now led by Charlie Prince (Ben Foster), while the real convoy charts a course for Contention, where Wade will be put on the 3:10 P.M. train to Yuma Territorial Prison. As the group prepares to ride out, Evans' older son William (Logan Lerman) demands to accompany them. Evans flatly refuses.