Daniel Plainview

CBUB Wins: 1
CBUB Losses: 3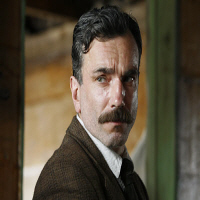 There Will Be Blood is a 2007 drama film directed, written and co-produced by Paul Thomas Anderson. The film is loosely based on the Upton Sinclair novel, Oil! (1927). It tells the story of a silver-miner-turned-oil-man on a ruthless quest for wealth during Southern California's oil boom of the late 19th and early 20th centuries. It stars Daniel Day-Lewis and Paul Dano.
The film received significant critical praise and numerous award nominations and victories. It appeared on many critics' "top ten" lists for the year, notably the American Film Institute, the National Society of Film Critics, the National Board of Review, and the Los Angeles Film Critics Association. Day-Lewis won Oscar, BAFTA, Golden Globe, Screen Actors Guild, NYFCC, and IFTA Best Actor awards for his performance. The film was nominated for eight Academy Awards including Best Picture, winning Best Actor for Day-Lewis and Best Cinematography for Robert Elswit.
In late 2009, it was chosen by Lisa Schwarzbaum of Entertainment Weekly, Peter Bradshaw of The Guardian, Peter Travers of Rolling Stone, Michael Phillips of the Chicago Tribune and At the Movies as the best film of the '00s.
In 1902, Daniel Plainview (Daniel Day-Lewis), a mineral prospector, discovers oil and establishes a small drilling company. Following the death of one of his workers in an accident, Plainview adopts the man's orphaned son (his mother nowhere to be found). The boy, whom he names H. W. (Dillon Freasier), becomes his nominal business "partner".
Read more about Daniel Plainview at Wikipedia
Official Site: Miramax
Researched by: agustinaldo