| | |
| --- | --- |
| Character sourced from: Gaming | |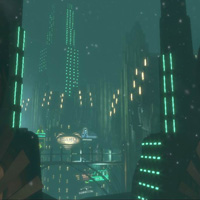 The City of Rapture
CBUB Wins: 4
CBUB Losses: 7
Win Percentage: 36.36%
Added by: Mullon
Read more about The City of Rapture at: Wikipedia
Official Site: 2K Games
BioShock is a horror first-person shooter video game developed by Irrational Games —then under the name 2K Boston/2K Australia—and designed by Ken Levine. It was released for the Windows operating system and Xbox 360 video game console on August 21, 2007 in North America, and three days later in Europe and Australia. A PlayStation 3 version of the game, which was developed by 2K Marin, was released internationally on October 17, 2008 and in North America on October 21, 2008 with some additional features. It became available on Steam on August 21, 2007. The game was also released for the Mac OS X operating system on October 7, 2009. A version of the game for mobile platforms is currently being developed by IG Fun. A sequel, BioShock 2, was released on February 9, 2010.
Set in an alternate history 1960, the game places the player in the role of a plane crash survivor named Jack, who must explore the underwater city of Rapture, and survive attacks by the mutated beings and mechanical drones that populate it. The game incorporates elements found in role-playing and survival games, and is described by the developers and Levine as a "spiritual successor" to their previous titles in the System Shock series. The game received overwhelmingly positive reviews, which praised its "morality-based" storyline, immersive environment and Ayn Rand-inspired dystopian back-story.
BioShock is a first-person shooter with role-playing game customization and stealth elements, and is similar to System Shock 2. The player takes the role of Jack, who aims to fight his way through Rapture, using weapons and plasmid (genetic alterations), in order to complete objectives. At times, the player may opt to use stealth tactics to avoid detection by security cameras and automated turrets. While exploring Rapture, the player collects money, which can be used at various vending machines to gain ammunition, health, and additional equipment. The player also comes across spare parts that can be used at "U-Invent" machines to create new weapons or usable items. Cameras, turrets, safes, some locks, and vending machines can all be hacked to the player's advantage, providing benefits such as turning on the player's foes, revealing their contents to the player, or allowing the player to purchase items at a discount.
Hacking requires the player to complete a mini-game similar to Pipe Mania in a limited amount of time. The player is given a "research camera" early in the game, allowing Jack to take photographs of enemies to help analyze them, with better quality photographs providing more beneficial analysis. After performing enough analysis of an enemy, the player is granted increased damage, gene tonics, and other bonuses when facing that type of enemy in future battles. Glass-walled "Vita-Chambers" can also be found throughout the game, which the player does not use directly. Instead, should Jack die, his body is reconstituted at the nearest one, retaining all of his possessions, but only a portion of his full health. In a patch for the game, the player has the option to disable the use of these Vita-Chambers, such that if Jack dies, the player will need to restart from a saved game.
No match records for this character.