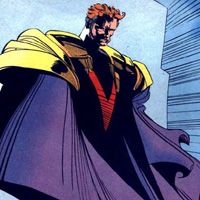 Fabian Cortez
CBUB Wins: 1
CBUB Losses: 1
Win Percentage: 50.00%
Added by: razorback
Read more about Fabian Cortez at: Wikipedia
Official Site: Marvel Entertainment
Fabian Cortez is a fictional character, a mutant comic book supervillain from the Marvel Comics universe and an adversary of the X-Men. Created by writer Chris Claremont and writer/illustrator Jim Lee, he first appeared in X-Men #1 (October 1991).
Thought to be royalty from Spain , Fabian Cortez organized the original Acolytes, who pledged themselves to Magneto and his cause, with Cortez goading and manipulating Magneto into combat with humanity and the X-Men at every turn, leading to the destruction of Magneto's space-station, Asteroid M, and the deaths of the other Acolytes, including Cortez's own sister Anne Marie.
Believing Magneto to be dead, and martyred for his cause, Cortez recruited a new group of Acolytes to follow him in Magneto's name, now worshipping him as their god. They launched several strikes on humanity, ranging from attacks on a military base where new Sentinels were being built, to slaughtering helpless humans in a hospital, but Magneto eventually resurfaced, sending his chosen heir Exodus to inform the Acolytes of Cortez's betrayal. The Acolytes welcomed Exodus as their new leader, and Cortez was left behind.
Fearing Magneto's wrath, Cortez fled to Genosha. Still claiming to speak in Magneto's name, he incited the nation's mutant population into starting a civil war against the humans, the world's first instance of the long-threatened genetic war between man and mutant. With the aid of the mutates, Cortez kidnapped Magneto's granddaughter Luna, intending to use her as a shield to protect himself from Magneto, the X-Men, and the Avengers. Cortez was unaware that Magneto had recently been mindwipe by Charles Xavier, and Exodus came to Genosha in his place, seemingly killing Cortez.
No match records for this character.