| | |
| --- | --- |
| Character sourced from: Gaming | |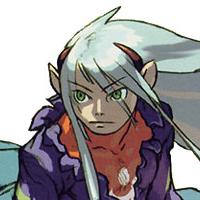 Fou-Lu
CBUB Wins: 0
CBUB Losses: 1
Win Percentage: 0%
Added by: Dio Brando
Read more about Fou-Lu at: Wikipedia
Official Site: Capcom
Breath of Fire IV, originally released in Japan as is a role-playing video game developed by Capcom, and is the fourth game in the Breath of Fire series. It was originally released for the Sony PlayStation home console in Japan and North America in 2000, and the PAL region in 2001. The game was later ported to Windows-based PCs in Europe and Japan in 2003.
Just as in previous games of the series, Breath of Fire IV follows the adventures of a young man named Ryu, who has the power to transform into powerful dragon. The Ryu in this game must team up with several other skilled warriors to combat an awakened immortal emperor from ascending to godhood and destroying the world of man. Like Breath of Fire III, the game utilizes a mix of two and three-dimensional computer graphics and turn-based battle sequences.
Breath of Fire IV is a traditional console role-playing game with an overhead, isometric viewpoint. The game's camera can be manually rotated by the player up to a full 360 degrees in some instances, though unlike Breath of Fire III it cannot be tilted up or down. The game environment is rendered in full 3D, while character are present as two-dimensional hand-drawn sprites. While moving about the world, players can interact with computer-controlled characters and objects, gain knowledge on the world around them, and gather clues on how to advance the story. Each playable character is given a special "field skill" that can be used to destroy obstacles or solve puzzles outside of battles, which occur randomly in hostile areas or dungeons.
The "Master System" from Breath of Fire III returns, allowing players to customize each character by having them apprentice under different masters found throughout the world. Under their guidance, these characters may gain new skills and special statistic increases by fulfilling certain tasks, such as participating in a certain number of battles, or finding specific items. The fishing mini-game common to the rest of the series also returns, along with the village-building Faerie Town feature from the previous title that allows players to construct a special village that opens new features.
No match records for this character.