Crockett & Tubbs

CBUB Wins: 0
CBUB Losses: 3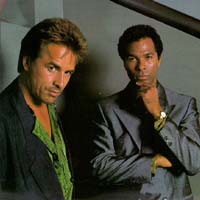 Miami Vice is an American television series produced by Michael Mann for NBC. The show became noted for its heavy integration of music and visual effects to tell a story. The series starred Don Johnson and Philip Michael Thomas as two Metro-Dade Police Department detectives working undercover in Miami. It ran for five seasons on NBC from 1984–1989. The USA Network later began airing reruns the next year, in 1990, and actually broadcast an originally unaired episode during its syndication run of the series on January 25, 1990.
Unlike standard police procedurals, the show drew heavily upon 1980s New Wave culture and music. It is recognized as one of the most influential television series of all time. People magazine stated that Miami Vice "was the first show to look really new and different since color TV was invented." Reruns of the series later aired on the FX from 1996-1999. Then in 2006 the cable network TV Land aired episodes for about a year. The same year the series began airing on the Sleuth network in United States until 2008, and now episodes air on the Centric network, MBC Action in the Arab World, Iris in Italy, NRK3 in Norway, Viasat TV6 in Sweden, Viasat 3+ in Denmark, TV7 in Bulgaria, TV3 in Estonia, and ZDF in Germany.
Michael Mann directed a film adaptation of the television series, which was released on July 28, 2006.
It is rumored that head of NBC's Entertainment Division, Brandon Tartikoff, wrote a brainstorming memo that simply read "MTV cops", and later presented the memo to series creator Anthony Yerkovich, formerly a writer and producer for Hill Street Blues. The initial idea was for a movie about a pair of vice cops in Miami. Yerkovich then turned out a script for a two-hour pilot, titled "Gold Coast", but later renamed, Miami Vice. Yerkovich was immediately drawn to South Florida as a setting for his new-style police show. Miami Vice was one of the first American network television programs to be broadcast in stereophonic sound.
Read more about Crockett & Tubbs at Wikipedia
Official Site: NBC
Researched by: r.m