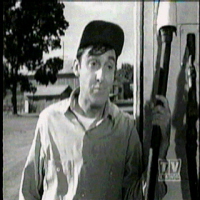 Gomer Pyle
CBUB Wins: 0
CBUB Losses: 3
Win Percentage: 0%
Added by: dustinprewitt
Read more about Gomer Pyle at: Wikipedia
Official Site: CBS
Gomer Pyle is the name of a character originated by American television actor Jim Nabors. Gomer Pyle was a simple-minded gas station attendant and later auto mechanic in the American TV sitcom The Andy Griffith Show, played for 27 episodes by Jim Nabors in 1962-1964. After two years of appearances on The Andy Griffith Show, Nabors and the Gomer Pyle character moved in 1964 to a separate starring vehicle, Gomer Pyle, U.S.M.C., which ran until 1969.
Gomer Pyle was depicted as a good-natured, naïve country-boy. His birthday is February 26. His hometown was given as the fictional town of Mayberry, North Carolina, and he was shown working at Wally's Filling Station where he lived in the back room. Wide-eyed and slack jawed, Gomer provided much of the comic relief during his two-year stint on The Andy Griffith Show. He was often awestruck by the simplest of things, resulting in the exclamation of his catchphrases, "Shazam!", "Gaaw-aawl-ly" and "Surprise, surprise, surprise!".
The character was employed as a service station attendant with little knowledge of mechanics (in "The Great Filling Station Robbery", he thought a carburetor was a hood ornament). He was later depicted as a skilled mechanic with a full knowledge of automobiles, perhaps due to training from his boss, Wally, or his cousin Goober (later played by George Lindsey). Gomer was usually seen sporting a ball cap with an upturned bill and his service station uniform with an ever-present handkerchief dangling from his back pocket.
Gomer was sometimes deputized by Deputy Barney Fife when additional assistance was needed to keep law and order in Mayberry. Though always compliant, Gomer's ineptitude usually made him more of a hindrance than a help in the line of duty. However, in the eyes of his friends, especially Sheriff Andy Taylor, his shortcomings were generally outweighed by his sweet temperament.
No match records for this character.