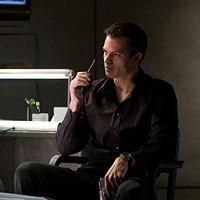 Thomas Grabiel
CBUB Wins: 0
CBUB Losses: 5
Win Percentage: 0%
Added by: boratz1617
Read more about Thomas Grabiel at: Wikipedia
Official Site: 20th Century Fox
Live Free or Die Hard (released as Die Hard 4.0 outside of North America), is a 2007 American action film, and the fourth installment in the Die Hard series. The film was directed by Len Wiseman and stars Bruce Willis as John McClane. The main plot finds McClane fighting a gang of cyber terrorists who plan to hack FBI computers. The film was based on the 1997 article "A Farewell to Arms" written for Wired magazine by John Carlin. The film's North American release date was June 27, 2007.
After the project was stalled due to the September 11, 2001 attacks, production eventually began, and the film's title was switched several times. A variety of visual effects were used for action sequences, even though Wiseman and Willis stated that they wanted to limit the amount of CGI in the film. In separate incidents during filming, both Willis and his stunt double were injured. Unlike the prior three films in the series, the US rating was PG-13 rather than R. An unrated version of Live Free or Die Hard containing profanity and violence not included in the theatrical version was made available for the DVD release.
The film received generally positive reviews, earning a 81% approval rating on Rotten Tomatoes and 69/100 from Metacritic. The film had total international box office gross receipts of $383.5 million. For the DVD release, 20th Century Fox pioneered a new kind of DRM, Digital Copy, that tries to weaken the incentives for consumers to learn how to rip discs by offering them a downloadable version with studio-imposed restrictions. The score for the film was released on July 2, 2007.
A number of computer hackers upload programs they were paid to code to a woman named Mai Linh (Maggie Q). Soon, all of the unknown hackers are killed by explosives wired to their computers. Mai uses the programs to cause a brief computer outage at the FBI Cyber-Security Division in the J. Edgar Hoover Building. The FBI responds by initiating a nationwide roundup of all known top hackers. NYPD detective John McClane is assigned to bring a hacker named Matthew "Matt" Farrell (Justin Long) into FBI custody. McClane's unexpected arrival stops Farrell from unknowingly triggering the explosives meant for him. Mai has assassins as backup, but McClane is able to protect Farrell and kill most of their attackers. The next day, Mai's boss and companion, Thomas Gabriel (Timothy Olyphant), gives her orders to initiate his plot. The first phase involves taking control of the transportation grid (most particularly, traffic lights) and the stock market.
No match records for this character.