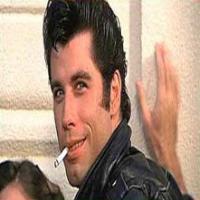 Danny Zucko
CBUB Wins: 0
CBUB Losses: 4
Win Percentage: 0%
Added by: Dalek Emperor Davros
Read more about Danny Zucko at: Wikipedia
Official Site: Paramount Pictures
Grease is a 1978 American musical film directed by Randal Kleiser and based on Warren Casey's and Jim Jacobs's musical, of the same name about two lovers in a 1950 high school. The film stars John Travolta, Olivia Newton-John, Stockard Channing, and Jeff Conaway. It was successful both critically and at the box office. The soundtrack album became one of the best-selling in pop movie history, and provided several chart hits for the original artists and others.
In 1959, during their summer vacation, local boy Danny Zuko (John Travolta) and Australian holiday-maker Sandy Olsson (Olivia Newton-John), meet at the beach and begin to fall in love. When the summer comes to an end, Sandy, who is returning home, frets that they may never meet again. Danny tells her that their love is "only the beginning."
This is followed by opening animated credits which introduce the primary cast, followed by the first day at Rydell High. Danny, a greaser, is reunited with his friends, the T-Birds — his bad-boy best friend Kenickie (Jeff Conaway), and their three bumbling sidekicks, Doody (Barry Pearl), Putzie (Kelly Ward), and Sonny (Michael Tucci) — while the Pink Ladies, the T-Birds' female counterparts, arrive and claim that they're going to "rule the school" in their final year. We meet three of the four Pink Ladies to start with - their raunchy leader Betty Rizzo (Stockard Channing), the sophisticated Marty (Dinah Manoff, in one of her first film roles), and the juvenile Jan (Jamie Donnelly). Sandy, whose family had unexpectedly cancelled their plans to return to Australia, also enters Rydell as a foreign exchange student. She is being shown around the school by another Pink Lady, a cheerful airhead named Frenchy (Didi Conn). At lunchtime, Danny and Sandy share memories of their summer romance with their friends, unaware of the other's presence at the school (Summer Nights). It soon becomes clear that Danny is exaggerating. Rizzo is surprised when Sandy reveals Danny's name on the way back to class, but the Pink Ladies keep quiet about Danny's presence at the school.
After a bonfire, the Pink Ladies decide to reunite Danny and Sandy. The stage looks set for a fairytale reunion, until Danny mixes-up his priorities. At first ecstatic, he decides to maintain his cool image in front of Sandy, since the rest of the T-Birds are standing right behind him. This abrupt change in behavior upsets Sandy who runs off. Frenchy decides to cheer Sandy up by inviting her to a slumber party at her house, with the other Pink Ladies. But things go wrong when Sandy's naîve behaviour begins to irriate the other girls. After Sandy leaves the room, Rizzo leads the girls in the teasing Look at Me, I'm Sandra Dee, and even Frenchy participates. Things get more awkward when Sandy walks-in on them. The T-Birds turn-up outside the house, and Rizzo decides to impulsively sneak out with Kenickie. After viewing Marty's extensive collection of pen-pal she borrows some papers and wanders outside, where she confronts her feelings about Danny - she is still in love with him, in spite of everything (Hopelessly Devoted to You).