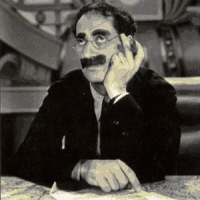 Groucho Marx
CBUB Wins: 2
CBUB Losses: 1
Win Percentage: 66.67%
Added by: dustinprewitt
Read more about Groucho Marx at: Wikipedia
Official Site: Groucho Marx.com
Julius Henry "Groucho" Marx (October 2, 1890 – August 19, 1977) was an American comedian and film star famed as a master of wit. His rapid-fire delivery of innuendo-laden patter earned him many admirers.
He made 13 feature films with his siblings the Marx Brothers, of whom he was the third-born. He also had a successful solo career, most notably as the host of the radio and television game shows You Bet Your Life and Tell it to Groucho. His distinctive appearance, carried over from his days in vaudeville, included quirks such as an exaggerated stooped posture, glasses, cigars, and a thick greasepaint moustache and eyebrows.
The Jewish Marx family grew up on East 93rd Street off Lexington Avenue in a neighborhood now known as Carnegie Hill on the Upper East Side of the borough of Manhattan, in New York City. The turn-of-the-century building that Harpo called "the first real home they ever knew" (in his memoir Harpo Speaks) was populated with European immigrants, mostly artisans. Just across the street were the oldest brownstones in the area, owned by people such as the well-connected Loew Brothers and William Orth.
Groucho's parents were Minnie Schoenberg Marx and Sam Marx (called "Frenchie" throughout his life because of his birthplace, Alsace-Lorraine). Minnie's brother was Al Schoenberg, who shortened his name to Al Shean when he went into show business as half of Gallagher and Shean, a noted vaudeville act of the early 20th century. According to Groucho, when Shean visited he would throw the local waifs a few coins so that when he knocked at the door he would be surrounded by adoring fans. Marx and his brothers respected his opinions and asked him on several occasions to write some material for them.