| | |
| --- | --- |
| Character sourced from: Toons | |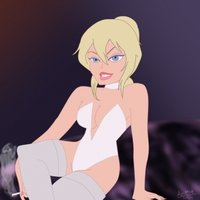 Holli Would
CBUB Wins: 1
CBUB Losses: 1
Win Percentage: 50.00%
Added by: Dalek Emperor Davros
Read more about Holli Would at: Wikipedia
Official Site: Paramount Pictures
Cool World is a 1992 American live-action-animated film directed by Ralph Bakshi, and starring Kim Basinger, Gabriel Byrne, and Brad Pitt. It tells the story of a cartoonist who finds himself in the animated world he created, and is seduced by one of his characters, a comic strip vamp who wants to be real. Cool World marked Bakshi's return to feature films after nine years. The film was originally pitched as an animated horror film about an underground cartoonist, who fathers an illegitimate half-human/half-cartoon daughter, who hates herself for what she is and tries to kill him.
During production, Bakshi's original screenplay was scrapped by producer Frank Mancuso, Jr. and heavily rewritten by screenwriting duo Michael Grais and Mark Victor, best known for writing Poltergeist and Poltergeist II: The Other Side, and an uncredited Larry Gross. Reviews praised the film's visuals, but criticized the story and characters, as well as the combination of live-action and animation, which some critics felt was unconvincing.
In 1945 Las Vegas, World War II veteran Frank Harris (Brad Pitt) is transported to an animated realm named the "Cool World", a hellish, twisted city of surreal landscapes and random cartoon violence, following a traffic collision with a drunk driver. Forty-seven years later, detained cartoonist Jack Deebs (Gabriel Byrne) creates a comic strip named Cool World, which features the femme fatale Holli Would (voiced by Kim Basinger). Holli voices her desire to enter the real world, but is declined help from Frank, who is now a detective in the Cool World. After being released from prison, Jack is transported to the Cool World and is smuggled into a club by Holli. Frank becomes aware of Jack's presence in the Cool World and aggressively confronts him, informing him that Cool World has existed long before Jack created the comic series and warns him that "noids", humans from the real world, are not allowed to have sex with "doodles", the inhabitants of the Cool World. Holli brings Jack back into the Cool World and the two have sex, causing Holli to transform into a human.
While Frank attempts to mend his relationship with doodle Lonette (voiced by Candi Milo), he temporarily leaves detective duties to his assistant Nails (voiced by Charles Adler). Jack and Holli leave for the real world, causing damage to the interdimensional barrier between the real world and the Cool World. Frank discovers that Nails has been done away with and decides to venture into the real world to pursue Jack and Holli, who have both begun to flicker between human and doodle states. While contemplating their situation, Holli tells Jack about the "Spike of Power", an artifact placed on the top of a Las Vegas casino by a doodle who crossed into the real world. When Jack displays skepticism about the idea, Holli abandons Jack to search for the spike on her own. When Frank pursues Holli on the casino, Holli kills him by kicking him off the building. Holli finds and takes the Spike of Power, transforming her and Jack (now voiced by Maurice LaMarche) into doodles and opening a gateway between the two worlds, releasing numerous monstrous doodles and a spreading Cool World corruption. Fighting off an increasing number of doodles as a superhero doodle, Jack returns the Spike of Power to its place, trapping him, Holli and the rest of the doodles in Cool World.

Images with a green border may be set as the character's main profile image.
For images 200x200 or 300x300 pixels square.
No match records for this character.