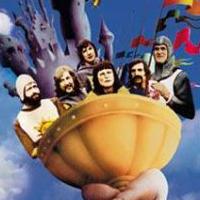 Knights of the Round Table(Monty Python)
CBUB Wins: 3
CBUB Losses: 1
Win Percentage: 75.00%
Added by: Nosferatu
Read more about Knights of the Round Table(Monty Python) at: Wikipedia
Official Site: Sony Pictures
Monty Python and the Holy Grail is a 1975 British comedy film written and performed by the comedy group Monty Python (Graham Chapman, John Cleese, Terry Gilliam, Eric Idle, Terry Jones, and Michael Palin), and directed by Gilliam and Jones. It was conceived during a gap between the third and fourth seasons of their popular BBC television series Monty Python's Flying Circus.
In contrast to the group's first film, And Now for Something Completely Different, a compilation of sketches from the television series, Holy Grail was composed of original material, therefore considered the first "proper" film according to the group and mainstream audiences. It generally spoofs the legends of King Arthur's quest to find the Holy Grail. The film was a success on its initial run and remains popular to this day. Idle used the film as the inspiration for the 2005 Tony Award-winning musical Spamalot.
The film was nominated for the Hugo Award for Best Dramatic Presentation in 1976, but lost to A Boy and His Dog.
Monty Python and the Holy Grail loosely follows the legend of King Arthur. Arthur (Graham Chapman) along with his squire, Patsy (Terry Gilliam), recruits his Knights of the Round Table, including Sir Bedevere the Wise (Terry Jones), Sir Lancelot the Brave (John Cleese), Sir Robin the Not-Quite-So-Brave-As-Sir-Lancelot (Eric Idle) and Sir Galahad the Pure (Michael Palin). The group is instructed by God (represented by an animated photograph of legendary cricket figure W. G. Grace ) to seek out the Holy Grail. They are led to a castle controlled by the French where they believe the Grail is being held. After being insulted in mangled Franglais and failing to invade the castle in a Trojan Rabbit, Arthur decides that they must go their separate ways to seek out the Grail.
No match records for this character.