| | |
| --- | --- |
| Character sourced from: Sci-Fi | |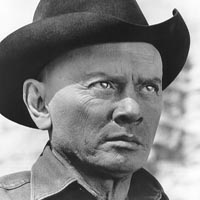 The Gunslinger (Westworld)
CBUB Wins: 0
CBUB Losses: 2
Win Percentage: 0%
Added by: wishtiger
Read more about The Gunslinger (Westworld) at: Wikipedia
Official Site: M.G.M
Westworld is a 1973 science fiction / thriller film written and directed by novelist Michael Crichton and produced by Paul Lazarus III. It stars Yul Brynner as a lifelike robot in a futuristic Western-themed amusement park, and Richard Benjamin and James Brolin as customers who are attacked by the park's robots when they malfunction.
Westworld was the last movie MGM produced before dissolving its releasing company, and was the first theatrical feature directed by Crichton. It was also the first feature film to use to pixellate photography to simulate an android point of view. The film was nominated for Hugo, Nebula and Golden Scroll (a.k.a. Saturn) awards, and was followed by a sequel film, Futureworld, and a short-lived television series, Beyond Westworld.
The story is set sometime in the near future, in Delos, a high-tech, highly realistic fictional adult amusement park featuring android that are almost indistinguishable from human beings. For a price of $1,000 per day, guests may indulge in any fantasy, including killing or having sex with the androids. The androids are programmed to act in character for each of the park's three themed zones: WesternWorld (the American Old West), MedievalWorld (medieval Europe), and RomanWorld (pre-Christian Rome). One of the main attractions in WesternWorld is the Gunslinger (Brynner), a robot programmed to start duels. Thanks to its programming, humans can always outdraw the Gunslinger and kill it. The guns issued to the guests also have temperature sensors that prevent them from shooting each other or anything else living but allow them to 'kill' the room-temperature androids.
After an introductory advertisement for the park, the film begins as Peter Martin (Benjamin), a first-timer, and his friend John Blane (Brolin), who has visited previously, visit WesternWorld. Gradually, the technicians running Delos begin to notice problems spreading like an infection among the androids (see computer virus). First the robots in MedievalWorld begin suffering an inexplicable number of systemic failures; then a robot rattlesnake bites Blane; against her programming, an android refuses a guest's request for sex. The failures increase until the robotic Black Knight kills a guest in a sword-fight in MedievalWorld. The resort's supervisors, in increasing desperation, try to regain control by shutting down power to the entire park, but this traps them in the control rooms, unable to turn the power back on while the robots run amok on stored power.
No match records for this character.