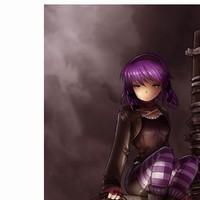 Tohya Miho
CBUB Wins: 3
CBUB Losses: 1
Win Percentage: 75.00%
Added by: KibaxHinata
Read more about Tohya Miho at: Wikipedia
Official Site: MegaTokyo main site
is an English-language webcomic created by Fred Gallagher and Rodney Caston, debuting on August 14, 2000, Gallagher's style of writing and illustration is heavily influenced by Japanese manga. Megatokyo is freely available on its official website. The stated schedule for updates is Tuesday and Friday, but they typically are posted just once or twice a week on non-specific days (in the beginning a three-per-week schedule of Monday, Wednesday, and Friday was the goal). It is among the most popular webcomics, and is currently published in book-format by CMX, although the first three volumes were published by Dark Horse. For February 2005, sales of the comic's third printed volume were ranked third on BookScan's list of graphic novels sold in bookstores, then the best showing for an original English-language manga.
Set in a fictional version of Tokyo, Megatokyo portrays the adventures of Piro, a young fan of anime and manga, and his friend Largo, an American video game enthusiast. The comic often parodies and comments on the archetypes and clichés of anime, manga, dating sim, arcade and video games, occasionally making direct references to real-world works. Megatokyo originally emphasized humor, with continuity of the story a subsidiary concern. Over time, it focused more on developing a complex plot and the personalities of its characters. This transition was due primarily to Gallagher's increasing control over the comic, which led to Caston choosing to leave the project. while negative criticism of Gallagher's changes to the comic has been given by sources including Websnark.
Megatokyo began publication as a joint project between Fred Gallagher and Rodney Caston, along with a few internet acquaintances. Gallagher and Caston later became business partners, as well. According to Gallagher, the comic's first two strips were drawn in reaction to Caston being "convinced that he and I could do [a webcomic] ... [and] bothering me incessantly about it", without any planning or pre-determined storyline. The comic's title was derived from an Internet domain owned by Caston, which had hosted a short-lived gaming news site maintained by Caston before the comic's creation. With Caston co-writing the comic's scripts and Gallagher supplying its artwork, eventually reaching levels comparable to those of such popular webcomics as Penny Arcade and PvP.
In May 2002, Caston sold his ownership of the title to Gallagher, who has managed the comic on his own since then. In October of the same year, after Gallagher was laid off from his day job as an architect, he took up producing the comic as a full time profession. Caston's departure from Megatokyo was not fully explained at the time. Initially, Gallagher and Caston only briefly mentioned the split, with Gallagher publicly announcing Caston's departure on June 17, 2002.
No match records for this character.