| | |
| --- | --- |
| Character sourced from: Toons | |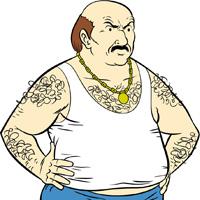 Carl Brutananadilewski
CBUB Wins: 0
CBUB Losses: 2
Win Percentage: 0%
Added by: tygre138
Read more about Carl Brutananadilewski at: Wikipedia
Official Site: Matt Maiellaro + Dave Willis
Carl Brutananadilewski is a fictional character on Adult Swim's television series, Aqua Teen Hunger Force. Like the other main characters, Meatwad, Frylock, and Master Shake; Carl made his first official appearance in the show's first episode, "Rabbot". Although Carl was voiced by mc chris as an eight year old in "Cybernetic Ghost of Christmas Past from the Future" and was performed as a live action person by David Long Jr. in the episode "Last Last One Forever and Ever", voice actor Dave Willis provides Carl's voice throughout the entire series, and every other official appearance Carl has ever made. Although his full name is Carl Brutananadilewski, he is mainly called "Carl". In 2007 Carl got his own internet spin-off show on Adult Swim Video, entitled Carl.
In an interview, Dave Willis stated that Carl is the "basic stereotype of males in general."
Carl Brutananadilewski is the only main character, who is a human. Carl wears blue sweatpants, a white tank top, flip flops, and a golden chain. Carl has a moustache, and is overweight, balding, and has hair all over his body, even on his feet. Unlike Master Shake, Meatwad and Frylock, when portrayed as a living person, David Long Jr., in "Last Last One Forever and Ever" Carl appears exactly the same . Carl always appears like this, expect in Carl his tank top is red, white and blue with a "1" on it, and his sweat pants are a darker blue with black stripes on them.
Carl is the Aqua Teens' quick tempered, sarcastic neighbor who lives in New Jersey. He has a strong passion for sports, classic rock (especially "More Than A Feeling" by Boston) and pornography which helps him with his favorite activity, masturbation. He generally dislikes the Aqua Teens, and considers them freaks. Carl sometimes tolerates and welcomes them (rarely with a favorable outcome) possibly because of loneliness. He has a pool which the Aqua Teens often use uninvited. His car and house are often destroyed, and he is often tortured and killed, usually as a result of something the Aqua Teens have done but occasionally by his own or others' doing. His family includes a cruel father who worked in a carpet factory, a mother who he argues with over the phone, a cousin in the Mafia, and a second-cousin who is a single mother and Carl argues with but cares for. His job is unknown (if he has one), but when asked about it he claims to "work out of the home". In the episode "Moonajuana", Carl told Frylock that he used to work at a peanut factory. The episode "Gene E" revealed that Carl studied "elevator repair". One of the "Carl" internet shorts revealed that Carl sells unauthorized Slippery When Wet beer koozies out of his basement. He is also an avid New York Giants fan.
No match records for this character.