Sportacus 10

CBUB Wins: 0
CBUB Losses: 3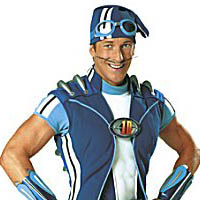 Sportacus (played by Magnús Scheving) is a fictional character from the children's television show LazyTown. He is the main protagonist of the show. His name is a play of the ancient figure Spartacus and the word sport which represents his athleticism.
He speaks English and Icelandic and is from "an island in the North Sea." In the past, Lazytown was protected by a similar hero from that area with a #9 on his chest (Sportacus wears a number 10). In the first episode when Stephanie was trying to think of how to encourage Lazytown's kids to get active, she sent a message through a tube that was used to communicate with #9, and Sportacus received her message and came to Lazytown. Exactly what #9 and Sportacus' connection is to each other hasn't been explained by the show yet.
Sportacus encourages the LazyTown kids to eat fruit (which he calls "sports candy") and play outside instead of sitting around indoors. He wants to make sure LazyTown is happy, and knows that they have to be healthy and fit if they want to be happy. He is opposed by the sinister (yet perhaps equally energetic) Robbie Rotten, who seeks to return LazyTown to its former state: a lazy town. Sportacus is so engaged in his life of physical activity that he does gymnastics just to get from place to place—even doing acrobatic flips just to get from one side of his kitchen table to the other—and the children have to instruct him on how to relax.
The large airship that floats above LazyTown is Sportacus's home. It has Sportacus's bed, food and other equipment. It is inflated via a foot pump.
Read more about Sportacus 10 at Wikipedia
Official Site: LazyTown Entertainment
Researched by: Mullon