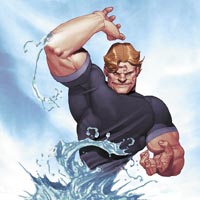 Hydro-Man
CBUB Wins: 3
CBUB Losses: 2
Win Percentage: 60.00%
Added by: razorback
Read more about Hydro-Man at: Wikipedia
Official Site: Marvel Entertainment
Hydroman is a fictional superhero character who first appeared in comic books from Eastern Color Printing in 1940; not to be confused with the Spider-Man villain Hydro-Man.
Created by Bill Everett, Hydroman first appeared in the premiere issue of Reg'lar Fellers Heroic Comics in August, 1940. Issue #14 (September, 1942) introduced Rainbow Boy, who would be Hydroman's sidekick. Hyroman's last appearance in this title was in issue #29 (March, 1945).
In 2008, Hydroman appeared in the Dynamite Entertainment miniseries Project Superpowers; here he was referred to by the nickname "Hydro," presumably to avoid any trademark conflicts with Marvel Comics who by now had a supervillain character called Hydro-Man.
In 1940, a young chemical engineer named Harry Thurston accidentally created a compound that could convert human flesh into water, and he spilled some on his hand. He called out to his friend Bob Blake, who was then accidentally doused with a large amount of the substance and turned completely into "living water." Fortunately, Harry found an antidote and poured it into Bob; restored to human form, Bob soon discovered that he could now transform any part of his body into water and control its form and movement. Deciding to put his new abilities to good use, Bob became a costumed crimefighter and called himself Hydroman. Originally his outfit was shirt, but later he wore a see-through shirt.