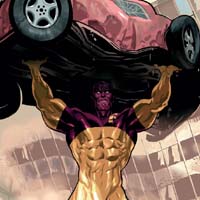 Major Force
CBUB Wins: 0
CBUB Losses: 2
Win Percentage: 0%
Added by: wishtiger
Read more about Major Force at: Wikipedia
Official Site: D.C Comics
Major Force (Clifford Zmeck) is a fictional character in the DC Comics universe. He is a supervillain that first appeared in Captain Atom vol. 3, #12 (February 1988).
Major Force is a product of the same U.S. Federal project which created Captain Atom during the Vietnam War. The government, in a project headed by Wade Eiling and the scientist Megala, was experimenting with the effects of atomic energy on an alien metal they had taken from a crashed spaceship to determine its full protective abilities; such as protecting a human being from a nuclear blast. After the disappearance of Nathaniel Adam and the perceived failure of the Captain Atom Project, the government restarted the project with a new subject, Clifford Zmeck and increased the amount of metal used (Captain Atom #36 (Dec. 89). While in the USAF, Zmeck had been jailed in a high security prison for rape and murder and sentenced to life in prison. He was offered a pardon in exchange for participation in the high-risk governmental experiment. The results were the same as with the Captain Atom Project and Zmeck disappeared into the Quantum Field, emerging one year after the return of Nathaniel Adam. This time, the government was ready and implanted microexplosives under the metal while it was still malleable, in order to control Zmeck in case he went rogue. During one mission, a government operator (who was actually the son of the woman Zmeck had murdered) activated one such explosive, amputating one of Zmeck's hands. Introduced as an ally, then successor to Captain Atom, Force's brutality betrayed his government-concocted role of superhero and brought him in frequent conflict with Atom. Major Force is now arguably Captain Atom's arch-enemy. Eventually, he became a hired gun for General Wade Eiling's purposes.
In Green Lantern vol. 3, #54 (August 1994), Major Force killed Alexandra "Alex" DeWitt, girlfriend of the Green Lantern Kyle Rayner, and stuffed her remains in a refrigerator so that Kyle could find her. Rayner tortured Major Force after their fight, but was stopped by forces of LAPD's Special Crimes Unit. Alex's demise inspired writer Gail Simone to create the website Women in Refrigerators, which in turn coined the term of the same name.
In Guy Gardner: Warrior #43 (June, 1996), Force killed Arisia, a former Green Lantern and dear friend of Guy Gardner. Force was apparently confronted in Kyoto, Japan. Guy Gardner seemingly kills him in revenge. In reality, Force is made of energy and not matter. He cannot die and has effectively gained immortality.
No match records for this character.