Kenshin Himura

CBUB Wins: 16
CBUB Losses: 12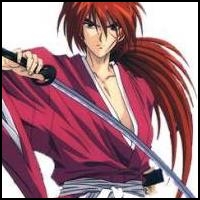 , known as Kenshin Himura in the English-language anime dubs, is a fictional character from the Rurouni Kenshin universe created by Nobuhiro Watsuki. He is the main protagonist of the manga and anime series, as well as the related media in the franchise. When creating Kenshin, Watsuki designed him to be the physical opposite of Hiko Seijūrō, a character that appears in Watsuki's first one-shot manga, "Crescent Moon in the Warring States"; a character with the same name appears in Rurouni Kenshin as Kenshin's swordsmanship teacher.
Kenshin's story is set in a fictional version of Japan during the Meiji period. Kenshin is a former legendary assassin known as (rendered as Battousai the manslayer in the Media Blasters English anime dub, and as The Unsheather on the Japanese kanzenban covers). At the end of the Bakumatsu, he becomes a wandering samurai, now wielding a , a katana that has the cutting edge on the inwardly curved side of the sword, thus being nearly incapable of killing. Kenshin wanders the countryside of Japan offering protection and aid to those in need, as atonement for the murders he once committed as an assassin. In Tokyo, he meets a young woman named Kamiya Kaoru, who invites him to live in her dojo despite learning about Kenshin's past. Throughout the series, Kenshin begins to establish lifelong relationships with many people, including ex-enemies, while dealing with his fair share of enemies, new and old. Through these encounters and relationships, Kenshin begins to find true atonement for his past enabling him to fully conquer his "Battōsai" nature.
Kenshin's character was well received by fans, with his holding the top spot in all reader popularity polls for the series. Critics of the series praised his personality, though some complained about his development during the original video animation (OVA) series, which differs from the manga. A variety of collectible based around Kenshin have been created, including figurines, key chains, plushies, and replicas of his sakabatō sword.
Watsuki discovered and used the story of Kawakami Gensai, a executed by the Meiji Government. According to Watsuki, when he found that Kawakami maintained a duty to his dead comrades, he decided to create the title character. Since Watsuki's debut work contained a tall, black-haired man in "showy" armor, the creator wanted to make a character "completely opposite" to the debut character and the new character ended up "coming out like a girl." According to Watsuki, he used "no real motif" when creating Kenshin and placed a cross-shaped scar when "not knowing what else to do." At the end of the series, Kenshin appears with short hair. Initially, Watsuki had planned to make his hair shorter before the end, however, he found this to be similar to the character Multi from To Heart. Watsuki based most of Kenshin's abilities on a real swordsman of the Tokugawa period named Matsubayashi Henyasai, who was skilled in acrobatic techniques. During his fight against Shishio Makoto's army, Kenshin is given a new sword with a sheath made of wood. Watsuki decided to redesign the sword to make it look as the first one Kenshin had in the series, though it is more difficult to draw.
Read more about Kenshin Himura at Wikipedia
Official Site: Aniplex
Researched by: Dragoon3k5