Samurai 7

CBUB Wins: 1
CBUB Losses: 1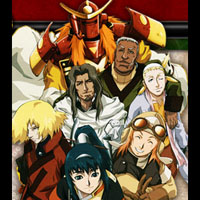 is a 2004 Japan anime series, produced by Gonzo and based on Akira Kurosawa's highly regarded 1954 movie Seven Samurai. The series was directed by Toshifumi Takizawa and its music was composed by Kaoru Wada and Eitetsu Hayashi. There are 26 episodes, each costing around ¥32,500,000 ($300,000USD) to produce.
The series premiered across Japan on the anime satellite television network, Animax, as an exclusive high definition CS-PPV broadcast, and was also later aired by the network across its other respective networks worldwide, including Southeast Asia, South Asia, Latin America and other regions. FUNimation has acquired the dubbing rights for the North America release. It is airing in America through the Independent Film Channel (using FUNimation's dub) since April 2006 and in high definition on Dish Network Animania HD channel (also using FUNimation's dub). It has also been broadcast across Canada by specialty channel Razer and across Hong Kong by TVB Jade. The FUNimation Channel began airing the series on September 6th, 2010.
Samurai 7 tells the story of a village named Kanna. Every year during the harvest a group of bandits come and steal away almost all of the rice that had been harvested that year. Not only that, the bandits are becoming more demanding, now taking women and children in addition to rice.
The elder of Kanna Village has decided that to protect the village they must hire samurai to fight against the bandits. However, the village has no money and thus must find samurai willing to protect the village for a payment of rice. Three members of the village leave to attempt to recruit samurai. They travel to the city and search for samurai willing to work, and after finding several samurai and having a few encounters with the local government they return to Kanna village to prepare defenses against the bandits.
Read more about Samurai 7 at Wikipedia
Official Site: GONZO
Researched by: lemming