| | |
| --- | --- |
| Character sourced from: Sci-Fi | |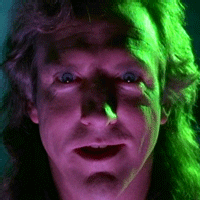 Randall Flagg
CBUB Wins: 2
CBUB Losses: 4
Win Percentage: 33.33%
Added by: doctor block
Read more about Randall Flagg at: Wikipedia
Official Site: Stephen King
Randall Flagg is a fictional character created by Stephen King. Flagg has appeared in seven novels by King, sometimes as the main antagonist and others in a brief cameo. He often appears under different names; most are abbreviated by the initials R.F. There are exceptions to this rule; in The Dark Tower series, the name most often associated with Flagg is Walter o'Dim. Flagg is described as "an accomplished sorcerer and a devoted servant of the Outer Dark" with general supernatural abilities involving necromancy, prophecy, and unnatural influence over predatory animal and human behavior. His goals typically center on bringing down civilizations, usually through spreading destruction and sowing conflict.
The character first appeared in the novel The Stand as a demon figure who wreaks havoc after a plague kills most of the population. He makes his second appearance in The Eyes of the Dragon as an evil wizard attempting to plunge the fictional medieval city of Delain into chaos. Flagg made several more appearances in King's epic series The Dark Tower as one of the main antagonists, in which he attempts to thwart protagonist Roland Deschain from reaching the Tower, the lynchpin of all existence, so he can claim it for himself and become a god. The Dark Tower expanded upon Flagg's backstory and motivations, as well as connecting his previous appearances together.
Aside from King's novels, Flagg was featured in a television miniseries adaptation of The Stand, in which he was portrayed by Jamey Sheridan, as well as making appearances in Marvel Comics' adaptations of The Dark Tower and The Stand.
Stephen King initially attributed Donald DeFreeze, the lead kidnapper in the Patty Hearst case, as his inspiration for Randall Flagg. He later attributed Flagg's creation to an image of a man in cowboy boots, denim jeans and jacket always walking the roads that "came out of nowhere" when he was still in college. As King's self-described best villain, the nature of Flagg's character and evil has been the subject of much discussion by literary critics.
No match records for this character.