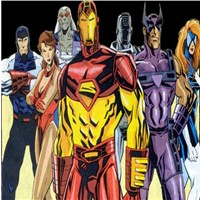 Force Works
CBUB Wins: 1
CBUB Losses: 2
Win Percentage: 33.33%
Added by: Rev. Dr. Pro. Esquire Jr.
Read more about Force Works at: Wikipedia
Official Site: Marvel
Force Works was a short-lived Marvel Comics superhero team. It first appeared in the comic book series Force Works #1 (July 1994). The title was written by Dan Abnett and Andy Lanning and initially drawn by Tom Tenney.
The group was formed from the remains of the West Coast Avengers, after leader Iron Man left the Avengers due to an internal dispute. Force Works maintained a different outlook than the Avengers, trying to preempt natural and manmade disasters.
Force Works began shortly after the West Coast Avengers disbanded. Tony Stark, otherwise known as the hero Iron Man, sought to form a superhero group with a different philosophy than its predecessors, most notably the East Coast branch of the Avengers: they would not just stop disasters, but prevent them. The team was initially composed of Iron Man, U.S. Agent, Spider-Woman (Julia Carpenter), Scarlet Witch, and Wonder Man. By the end of their first mission, Wonder Man was thought dead at the hands of the invading Kree, and shortly thereafter the alien Century took his place. The group used a combination of The Chaos Computer, a supercomputer that used incoming information to predict future events, and the hex powers of the Scarlet Witch to attempt to prevent major world problems.
Force Works used a Stark Enterprises facility known as The Works as their base. The building was fully equipped for the team's use; it featured powerful security and stealth systems and incorporated nanotechnology that would repair the building if it were damaged. It was maintained by a Stark Industries staff, leaving Force Works to focus on its duties. The facility was also administered by an artificial intelligence system called P.L.A.T.O. (Piezo-electrical Logistic Analytical Tactical Operator). The Works also included living and training accommodations and could also produce hard-light holograph.
No match records for this character.