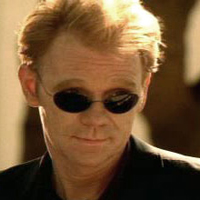 Horatio Caine
CBUB Wins: 5
CBUB Losses: 6
Win Percentage: 45.45%
Added by: Mullon
Read more about Horatio Caine at: Wikipedia
Official Site: CBS Broadcasting Inc.
Lt. Horatio Caine is a fictional character in the series CSI: Miami, played by actor David Caruso. He is a Crime Lab Lieutenant.
Caine's parents named him after author Horatio Alger. Before he moved to Miami, Caine worked in New York City as detective with the NYPD. It was there that he killed the man who murdered his mother: his own father. In 1995, while on the job, he was stabbed while investigating a case in which children were locked in closets while their parents were murdered. The perpetrator, Walter Resden, harbored a deep grudge against Caine, collecting the blood from the stabbing and preserving it for 10 years in order to frame him for the murder of Caine's girlfriend, Rachel Turner.
After his arrival in Florida, Horatio joined the Miami-Dade Police as a homicide detective but later transferred to the bomb squad, where he was mentored by Al Humphries, an older cop whom Caine highly respected and considered a good friend; Humphries was later killed after accidentally triggering a bomb he was attempting to disarm. Horatio worked undercover in Pensacola, Florida for sometime during the early 1990s (this is the date given on the show, despite the fact it was previously understood on the show that Horatio worked in New York until at least 1995). During his time there, he dated a woman he believed to be named Julia Eberlie, and the two conceived a son named Kyle. Horatio would not be aware of Kyle's existence for another sixteen years. Sometime later he returns to Miami and to being a detective, in "Out Of Time" he references previously working on the bomb squad. Finally, Caine moved to the Crime Lab, accepting a promotion to lieutenant, which earned him the animosity of Sergeant Rick Stetler, who was also vying for the rank. When veteran CSI Megan Donner went on personal leave following the death of her husband, Horatio became the permanent head of the lab.
In the CSI continuum, Caine is a day shift supervisor at the Miami-Dade crime lab, a forensic analyst and former homicide detective and bomb squad officer (his forensic speciality is arson and explosion evidence). He is very protective of his team, who affectionately call him "H." He is very concerned about the reputation of his lab, and takes great care to keep them clean, perhaps because of his experience with his tarnished younger brother, Ray. When his staff fall under suspicion in several episodes ("One of Our Own", "Internal Affairs"), he immediately jumps in their defense, especially from IA investigator Rick Stetler, and tries his best to prove their innocence. Unlike his counterpart in Las Vegas, now former CSI Supervisor Gil Grissom (CSI: Crime Scene Investigation), he is a commissioned police officer, and thus carries a badge and gun. A superb marksman, Caine doesn't hesitate to use deadly force when needed. He is also an ardent advocate of the death penalty for particularly heinous crimes, and doesn't think twice about threatening suspects with it in such cases. In the first two seasons, Caine carried a Beretta Cougar on the job. Since the beginning of season three, he has been shown carrying a SIG-Sauer P229. He is very insistent on gun maintenance, especially since team member Tim Speedle was killed in a shootout after his gun misfired because of the lack of maintenance. In fact, one of the reasons for Caine's nearly on-the-spot selection of Officer Ryan Wolfe as Tim Speedle's replacement (in episode 303, "Under the Influence") is Wolfe's compulsive care of his firearm due to OCD.





Images with a green border may be set as the character's main profile image.
For images 200x200 or 300x300 pixels square.