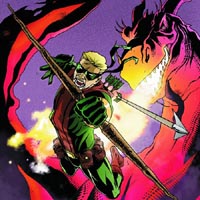 Green Arrow (Connor Hawke)
CBUB Wins: 2
CBUB Losses: 2
Win Percentage: 50.00%
Added by: razorback
Read more about Green Arrow (Connor Hawke) at: Wikipedia
Official Site: D.C Comics
Connor Hawke is a DC Comics superhero who operated as the second Green Arrow, created by Kelley Puckett and Jim Aparo. Connor is the son of Oliver Queen, the original Green Arrow, and his former girlfriend Moonday "Sandra" Hawke. Connor Hawke first appeared in Green Arrow (volume 2) #0 (1994).
Connor Hawke met Oliver Queen after Ollie came to stay at the ashram where Connor had been studying for some years. Ollie who had previously retreated to the ashram decades before, looking for peace after accidentally killing a criminal (in The Flash [2nd series] #217), returned to the ashram under similar circumstances, haunted by the thought that he had killed his former best friend Hal Jordan, who, at the time, was involuntarily serving as the host of the supervillain Parallax. Thanks to Connor, who was a big fan of Green Arrow, Ollie was able to regain a semblance of inner peace and venture out into the world again, especially after numerous attempts on his life had been made.
Connor decided to journey with Ollie, and created a costume similar to his. Connor served as Ollie's sidekick, also meeting with Eddie Fyers, the former federal agent that acted as a form of counsel for Ollie. It was during this time that Ollie learned about his connection to Connor (albeit from the ghost of Hal Jordan): Connor was Ollie's son, conceived during Ollie's college years - a truth that Eddie Fyers had already deduced. Ollie didn't take it well and stormed off, agreeing to go undercover in an eco-terrorist group called the Eden Corps for the government. The mission turned out to be fatal for Ollie, as his arm was connected to a bomb in a plane that was headed for Metropolis. Rather than endanger Metropolis, and refusing to allow his arm to be amputated, he sacrificed himself to let the bomb explode away from the city. With his father dead, Connor decided to take up the mantle of Green Arrow and continue his hero's work.
Connor continued to travel with Eddie, accompanied at times by Connor's martial arts mentor Master Jansen. Connor tried to find his place not only in the hero world, but also in the legacy of Green Arrow. Akin to the friendship between his father and Hal Jordan, Connor became quick friends with the new Green Lantern Kyle Rayner, who himself was struggling to live up to a legacy. Connor also met Black Canary (Dinah Laurel Lance), Ollie's former and longtime romantic interest, who gave him one of Ollie's old bows, which Connor would use from then on (though the news that Ollie was dead had sent Black Canary, who was already suffering from a string of misfortunes – loss of income from the destruction of her florist shop and the loss of her superhuman ability – into a despair, it was finally ended by her association with Oracle and she was Oracle's agent by the time she finally met Connor).