Jeannie

CBUB Wins: 4
CBUB Losses: 1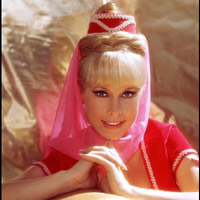 I Dream of Jeannie is a 1960s American sitcom with a fantasy premise. The show starred Barbara Eden as a 2000-year-old female genie, and Larry Hagman as an astronaut who becomes her master, with whom she falls in love and eventually marries. Produced by Screen Gems, the show originally aired from September 1965 to May 1970 with new episodes, and through September 1970 with season repeats, on NBC. The show ran for five seasons and produced 139 episodes. The first season consisted of 30 episodes filmed in black and white. The other 109 episodes were filmed in color. The show has continued to air in reruns ever since, currently airing in the United States on WGN America, on GO! in Australia and on Sony Entertainment Television (India) and Zee Cafe in India.
The series was created and produced by Sidney Sheldon in response to the great success of rival network ABC's Bewitched series, which had debuted in 1964 as the second most watched program in the United States. Sheldon, inspired by the movie The Brass Bottle, which had starred Tony Randall, Barbara Eden, and Burl Ives as the genie Fakrash, came up with the idea for a beautiful female genie. Both I Dream of Jeannie and Bewitched were Screen Gems productions. The show debuted at 8:00 pm (EDT), Saturday, September 18, 1965, on NBC.
When casting was opened for the role of Jeannie, Sidney Sheldon could not find an actress who could play the role the way that he had written it. He did have one specific rule: he did not want a blonde genie because there would be too much similarity with the blonde witch on Bewitched. However, after many unsuccessful auditions, he called Barbara Eden's agent.
In most episodes, Eden wears her revealing "Jeannie" costume (created by veteran Hollywood costume designer Gwen Wakeling). Censors allowed her to be depicted living in a house with an unmarried man (because early episodes made it plain that she slept in her bottle) but would not permit Eden's navel to be seen. (In one scene midway through a season four episode entitled "The Case of My Vanishing Master, Part 2", Jeannie's waistband slips below her navel. It was also seen briefly during the third season episode "Meet My Master's Mother", and season five's "Mrs. Djinn-Djinn".) The makers of the series were also presented with the situation of filming around Eden's real-life pregnancy during the first eleven episodes of the first season, without writing it into the storyline. She wore veils to hide her stomach, and as her pregnancy progressed, they began to use body doubles and filmed Eden only above the waist, though her belly is visible in some profile shots.
Read more about Jeannie at Wikipedia
Official Site: NBC
Researched by: razorback