| | |
| --- | --- |
| Character sourced from: Gaming | |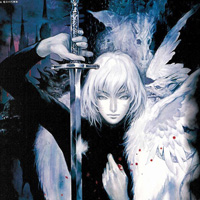 Soma Cruz
CBUB Wins: 1
CBUB Losses: 3
Win Percentage: 25.00%
Added by: lemming
Read more about Soma Cruz at: Wikipedia
Official Site: Konami Entertainment
Soma Cruz, known in Japan as , is a fictional character and the protagonist of Konami's action-adventure game Castlevania: Aria of Sorrow and Castlevania: Dawn of Sorrow, part of Konami's Castlevania video game series. He was designed by Ayami Kojima as part of producer Koji Igarashi's desire to try a "different route" for the Castlevania series. His return in Dawn of Sorrow was due to Igarashi's satisfaction with Soma and the storyline in Aria of Sorrow, and he was redesigned with a new anime appearance.
In Aria of Sorrow, Soma is a transfer student studying in Japan (or simply a Japanese high school student, in the Japanese version ), where he finds himself in the castle of Dracula, the principal antagonist of the Castlevania series. Soma discovers his "power of dominance," or his ability to claim the souls and abilities of the monsters he defeats as his own. As the game's story progresses, Soma learns of Dracula's demise, and that he is destined to be the next Dracula (a position Graham Jones believed he held before he was killed by Soma). The only reason he did not become the next dark lord immediately was due to the efforts of Alucard, using the pseudonym Genya Arikado. Soma eventually defeats the chaos running through the castle, narrowly missing both his own corruption and his possible death at the hands of Julius Belmont. Dawn of Sorrow features Soma fighting the attempts of a cult to slay him and create a new dark lord when one did not surface during the events of Aria of Sorrow.
Several video game publications have praised Soma's character. Although Soma himself was viewed as a stereotypical echo of previous Castlevania protagonists, the new context that the storyline Aria of Sorrow and Dawn of Sorrow provided for him rectified this. The storyline in particular that Soma was situated in was compared to the storyline of the widely acclaimed Castlevania: Symphony of the Night. The switch to an anime character design in Dawn of Sorrow was notably criticized, as many reviewers preferred the designs made by Ayami Kojima.
Soma first debuted in Castlevania: Aria of Sorrow, the third and final installment of the Castlevania series on the Game Boy Advance. He was created as part of the attempt by Koji Igarashi, the producer of several Castlevania games, including the highly acclaimed Castlevania: Symphony of the Night, to try a "different route" for the series by setting it in a futuristic setting. Kojima's drawings are made in a dark, gothic style, and borrow heavily from bishōnen-style art. Nevertheless, keeping with Igarashi's "different route" motif, Soma's appearance was made noticeably more contemporary, sporting more modern clothing in comparison to the medieval attire of characters in previous Castlevania games.
No match records for this character.