| | |
| --- | --- |
| Character sourced from: Sci-Fi | |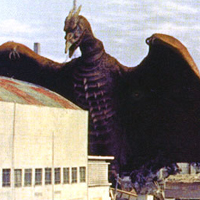 Rodan
CBUB Wins: 3
CBUB Losses: 5
Win Percentage: 37.50%
Added by: olympus
Read more about Rodan at: Wikipedia
Official Site: Toho Co
is a fictional Japan pterosaur introduced in Rodan, a 1956 release from Toho Studios, the company responsible for the Godzilla series. Like Godzilla and Anguirus, he is designed after a type of prehistoric reptile (the Japanese name "Radon" is a contraction of "pteranodon". Radon is usually referred to as "Rodan" in the United States, possibly to avoid confusion with the atomic element Radon; any time his name is written in English in Japan, it is written as Rodan. He is occasionally portrayed as enemy of Godzilla but is usually depicted as one of Godzilla's allies, much like Anguirus. Rodan and Anguirus both started out as enemies of Godzilla, which explains the occasional enmity between the creatures and Godzilla himself on the rare occasion that they are pitted against one another.
In Rodan, two Rodans were unearthed and awakened by mining operations in Kitamatsu along with a swarm of prehistoric insect called Meganulon. After devouring several people and reducing Sasebo to ruins, one Rodan is maimed in a bombardment of their nest in Mount Aso and falls, apparently fatally, into a volcanic eruption triggered by the attack. The other Rodan, in a doomed attempt to save its mate, flies into the mouth of the volcano as well. Also, as with Godzilla, the American version differs from the original Japanese release by more than simple matters of language translation; the original Japanese version is much darker in tone. It also has one of the Rodans damaged by a jet fighter, hindering its ability to fly at supersonic speeds.
Rodan went on to cross over into the Godzilla series. It is explained that one Rodan from the 1956 film is resurrected by accumulated volcanic gas, appearing in Ghidorah, the Three-Headed Monster to help Godzilla and Mothra defeat King Ghidorah. In this appearance and all subsequent appearances in the Showa series, Rodan is as tall as Godzilla. Rodan appeared with Godzilla again in Invasion of the Astro-Monster, where both were mind-controlled by Xilians to destroy Earth's cities and later fought King Ghidorah again when the mind control was broken.
In Destroy All Monsters, Rodan was again used by aliens to wreak havoc on Earth, this time by the Kilaak. Again the mind control was broken and the monsters fought King Ghidorah. Rodan would only appear again in the Shōwa series in stock footage used for Godzilla vs. Gigan, Godzilla vs. Megalon and Terror of Mechagodzilla.

Images with a green border may be set as the character's main profile image.
For images 200x200 or 300x300 pixels square.