Sheriff Taylor & Deputy Fife

CBUB Wins: 1
CBUB Losses: 1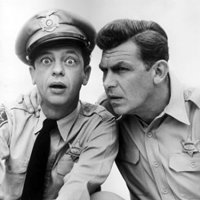 The Andy Griffith Show is an American sitcom first televised by CBS between October 3, 1960 and April 1, 1968. Andy Griffith portrays a widowed sheriff in a fictional small community of Mayberry, North Carolina. His life is complicated by an inept but well-meaning deputy, Barney Fife (Don Knotts), a spinster aunt and housekeeper, Aunt Bee (Frances Bavier), and a young son, Opie (Ron Howard, billed as Ronny). Local ne'er-do-wells, bumbling pals, and temperamental girlfriends further complicate his life.
The series was a major hit, never placing lower than seventh in the Nielsen ratings and ending its final season at number one. Though neither Griffith nor the show won awards during its eight-season run, series co-stars Knotts and Bavier accumulated a combined total of six Emmy Awards. The show, itself a spin-off of The Danny Thomas Show, spawned its own spin-off series, Gomer Pyle, U.S.M.C. (1964), a sequel series, Mayberry R.F.D. (1968), and a reunion telemovie, Return to Mayberry (1986). The show's enduring popularity has generated a good deal of show-related merchandise. Reruns currently air across the United States, and the complete series is available on DVD.
Frances Bavier was cast as Andy's housekeeper, Aunt Bee, and Ron Howard as Andy's son, Opie. Don Knotts, who knew Griffith professionally and had seen The Danny Thomas Show episode, called Griffith during the developmental stages of the show and suggested the Sheriff character needed a deputy. Griffith agreed. Knotts auditioned for the show's creator and executive producer, Sheldon Leonard, and was offered a five-year contract. He joined the cast as Barney Fife. Griffith, Knotts, Bavier and Howard all made their series debut in the premiere, "The New Housekeeper."
The show's production team included producers Aaron Ruben (1960–1965) and Bob Ross (1965–1968). First-season writers (many of whom worked in pairs) included Jack Elinson, Charles Stewart, Arthur Stander and Frank Tarloff (as "David Adler"), Benedict Freedman and John Fenton Murray, Leo Solomon and Ben Gershman, and Jim Fritzell and Everett Greenbaum. In the sixth season, Greenbaum and Fritzell left the show and Ruben departed for Gomer Pyle, U.S.M.C., a show which he owned in part. Writer Harvey Bullock left after season six. Bob Sweeney directed the first three seasons save the premiere.
Read more about Sheriff Taylor & Deputy Fife at Wikipedia
Official Site: Paramount
Researched by: moesjr72907