| | |
| --- | --- |
| Character sourced from: Gaming | |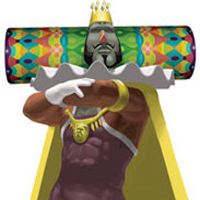 King of All Cosmos (Katamari Damacy)
CBUB Wins: 0
CBUB Losses: 2
Win Percentage: 0%
Added by: lemming
Read more about King of All Cosmos (Katamari Damacy) at: Wikipedia
Official Site: Namco Bandai Games
is a third-person puzzle-action video game that is published and developed by Namco for the PlayStation 2 video game console. It was first released in Japan, and then later in South Korea and North America. The game resulted from a school project from the Namco Digital Hollywood Game Laboratory, and was developed for less than $1 million. In designing Katamari Damacy, the development team aimed to maintain four key points: novelty, ease of understanding, enjoyment, and humor.
The game's plot concerns a diminutive prince on a mission to rebuild the star, constellation, and Moon, which were accidentally destroyed by his father, the King of All Cosmos. This is achieved by rolling a magical, highly adhesive ball called a katamari around various locations, collecting increasingly larger objects, ranging from thumbtacks to people to mountains, until the ball has grown great enough to become a star. Katamari Damacy's story, characters, and settings are bizarre and heavily stylized, rarely attempting any resemblance of realism, though the brands and items used are based on those current in Japan during the game's production.
Overall, Katamari Damacy was well received in Japan and North America. The game was dubbed a sleeper hit, and won several awards. Katamari Damacy inspired the development of other video games, and led to the release of five sequels in Japan and other territories: We Love Katamari, Me & My Katamari, Beautiful Katamari, I Love Katamari, and Katamari Forever.
The primary story in Katamari Damacy deals with the aftermath of the planet-sized King of All Cosmos's binge drinking spree that wiped out all the stars and other celestial bodies from the sky. The King (who appears to be chronically dissatisfied with his 10-cm-tall son's small size) charges the Prince to go to Earth with a "katamari"—a magical ball that allows anything smaller than it to stick to it and make it grow—and collect enough material for him to recreate the stars and constellations. The Prince is successful, and the sky is returned to normal.
No match records for this character.