Mick Taylor

CBUB Wins: 1
CBUB Losses: 1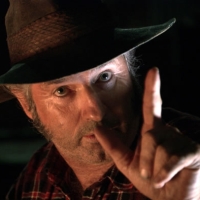 Wolf Creek is a 2005 independent Australian horror film written, co-produced and directed by Greg McLean. The story revolves around three backpackers (Cassandra Magrath, Kestie Morassi, and Nathan Phillips) who find themselves held captive by a serial killer (John Jarratt) in the Australian outback. It is loosely inspired by the murder of Peter Falconio in 2001. The film was marketed as being "based on true events".
Wolf Creek premiered at the Sundance Film Festival in January 2005. The Australian premiere was in March, 2005 in Adelaide. It was released on 25 December 2005 in the United States.
Although the film received moderately positive to mixed reviews, it was nominated for seven American Film Institute awards, including Best Director. In 2010, the film was included in Slant Magazine's list of the 100 best films of the decade.
Two English tourists, Liz Hunter (Cassandra Magrath) and Kristy Earl (Kestie Morassi), meet with an Australian man, Ben Mitchell (Nathan Phillips), at a party, and they decide to spend the rest of their holiday with him. The young trio plans to drive to Wolf Creek, a large crater formed by a 50000-ton meteorite, and explore the area. While exploring the crater, Ben and Liz kiss.
Read more about Mick Taylor at Wikipedia
Official Site: Darclight Films
Researched by: agustinaldo