Hank Hill

CBUB Wins: 1
CBUB Losses: 3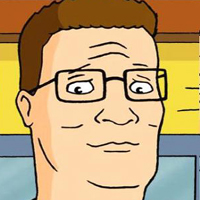 Hank Rutherford Hill is a fictional character in the animated series King of the Hill. Hank lives in Arlen, Texas and works at the fictional Strickland Propane selling propane and propane accessories. Hank's voice is provided by series creator Mike Judge. The Economist named Hank Hill as one of the wisest people on television.
According to his fictional medical record, Hank is 6'2" and weighs in at 197 lbs. Ostensibly a plain fellow when first met face to face, to see him walk away we note that this guy is not so general; Hank suffers from a fictional genetic disorder called Diminished Gluteal Syndrome (DGS). His essentially non-existent buttocks cause stress on his spine was forcing him to wear an "orthogluteal" prosthesis while seated in at least one of the episodes. In addition to his ankle, Hank broke his nose playing High School football and it set slightly askew (Bill pronounced this his "one flaw") -- he broke it again playing as an adult and, falling prey to vanity, had it repaired and perfected by a plastic surgeon, but shortly had him restore it to its prior imperfect shape.
Hank sells propane and propane accessories as an assistant manager at Strickland Propane. One of his catch phrases is: "I'm assistant manager at Strickland Propane, where I sell propane and propane accessories" which he uses in nearly every episode. Sometimes he uses different versions of this catch phrase, (example: at Luanne's first Puppet show he helped Luanne when she needed help saying: I'm assistant manager of this movie theatre where I sell popcorn and popcorn accessories). He approaches his job with such dedication that when the phone rings in the middle of the night, he often starts into the Strickland slogan, "Strickland Propane, taste the meat, not the heat," before catching himself. He was briefly promoted to manager when Buck's wife/ex-wife ("Miz Liz") temporarily took over Strickland Propane. Hank was also briefly promoted to manager by Buck Strickland while helping Buck rebuild a house for Habitat for Humanity as part of Buck's community service after a drunk driving conviction. He was then demoted after blurting out "I love you" to Strickland. Unlike Strickland's business enemy, M. F. Thatherton (and Strickland himself), Hank believes that selling propane through honesty and hard work is what life is all about. Hank idolizes Buck, who calls Hank "Ol' Top," and keeps a somewhat idyllic picture of him, even though he recognizes his boss's many shortcomings (excessive gambling, alcoholism, womanizing, and a general lack of principles). When it comes to Strickland, loyalty wins over all else. Hank must frequently clean up his boss's unsavory "situations": bailing him out of jail, facilitating his vices, and performing suspicious errands. In one episode he went as far as covering up Strickland's illegal price fixing agreement with the other local propane providers to keep him from being arrested. While Hank has a decidedly chauvinistic attachment to Buck Strickland, in the Season 5 episode "The Buck Stops Here" after rescuing Bobby and Buck from the grasp of violent gamblers in Arkansas, he slows his truck down just long enough to let one of the gamblers punch Buck in the face, and a smirk on his face implies he enjoyed this small catharsis against his boss.
He only has one child, Bobby Hill, but would have had more if not for his "narrow urethra," a running joke throughout the series. Early in the series he often says of Bobby, "That boy ain't right." And in one episode Peggy says "Bobby isn't a girl," to which Hank responds "No Peggy, I don't think we have to worry about that anymore." Although Hank is often perplexed and irritated by Bobby's eccentricities, he clearly loves his son, even though he's reluctant and uncomfortable to say it to his face. He even feigns an interest in Bobby's passions such as comedy and theatre. Hank is relieved when Kahn tells him that he caught Bobby and Connie taking their clothes off since, up until that time, Hank was unsure of Bobby's interest in girls. In the first episode of the series, Peggy prompts inexpressive Hank to tell his son that he loves him—after he finally manages to do so, Bobby says that he thought he was just a "big disappointment," which Hank immediately rejects, earnestly (if, to the viewer, implausibly) declaring that Bobby is the one thing in town that's never disappointed him.
Read more about Hank Hill at Wikipedia
Official Site: Fox
Researched by: wishtiger