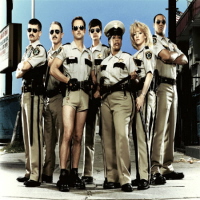 Reno 911!
CBUB Wins: 2
CBUB Losses: 3
Win Percentage: 40.00%
Added by: dustinprewitt
Read more about Reno 911! at: Wikipedia
Official Site: Comedy Central
Reno 911! is an American comedy television series on Comedy Central that ran from 2003 to 2009. It is a mockumentary-style parody of law enforcement documentary shows, specifically COPS, with comic actors playing the police officer. Most of the material is improvised, using a broad outline, and with minimal scripted material. The series spawned a film, Reno 911!: Miami, featuring the same cast.
On August 13, 2009, Thomas Lennon announced through Twitter that the show had ended its six-year run.
The show is a satire of the Fox Television show COPS, which follows actual police officers through their daily duties (often chasing criminals and intervening in domestic disputes) in Washoe County, Nevada. Reno 911! features members of a fictitious, inept Reno Sheriff's Department, distinct from the actual Reno Police Department and Washoe County Sheriff's Office, both of which are absent in the show. In the course of their duties patrolling both Reno and the rest of the county, the deputies sometimes address the camera directly as though being interviewed. The show dealt heavily in politically incorrect and 'racy' humor, including many jokes about race, sexual orientation, drug and alcohol abuse, rape, and so on.
Only the basic plot elements of the show were scripted, with the dialogue improvised, enhancing the illusion of reality (a practice referred to as retroscripting). Unlike COPS, which the show parodies, Reno 911! Sheriff's deputies were constantly cursing, causing much of their dialogue to be "bleeped" for broadcast. The actors often performed their own stunts. A constantly changing cast of weirdos, prostitutes, homeless persons, survivalists, political figures, celebrities, etc. were portrayed by comedian friends of the primary cast or the cast themselves (whose faces were blurred in the style of COPS to keep them distinct from their officer characters). During the entire show, the police radio was from Grand Theft Auto 2.
No match records for this character.