Deathlok (Collins)

CBUB Wins: 1
CBUB Losses: 1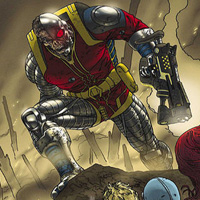 Deathlok (also referred to as Deathlok the Demolisher) is a fiction cyborg published by Marvel Comics. He first appeared in Astonishing Tales #25 (Aug. 1974), and was created by Rich Buckler and Doug Moench. At least three subsequent Marvel characters have used the "Deathlok" identity since then.
The first Deathlok series ran in the Astonishing Tales #25-36 (Aug. 1974 - July 1976). This initial version of the character, Luther Manning, later guest-starred with Spider-Man in Marvel Team-Up #46 (June 1976) and the story from the cancelled Astonishing Tales feature was finished in Marvel Spotlight #33 (April 1977).
Deathlok subsequently appeared with the Thing, a member of the superhero team the Fantastic Four in Marvel Two-in-One #27 & #54 (May 1977 & Aug. 1979), although one appearance was actually a robot and not the genuine Deathlok. The Luther Manning Deathlok then appeared in Captain America #286-288 (Oct.-Dec. 1983).
A new Deathlok, Michael Collins, debuted in the miniseries Deathlok #1-4 (July-Oct. 1990, reprinted as Deathlok Special #1-4 the following year). He was the second Deathlok to be created in the modern era and also the second to be created for the traditional Marvel Universe. This second Deathlok went on to a 34-issue series cover-dated July 1991 to April 1994, plus two summer annuals in 1992 and 1993.
Read more about Deathlok (Collins) at Wikipedia
Official Site: Marvel Entertainment
Researched by: r.m