Red Sonja

CBUB Wins: 8
CBUB Losses: 4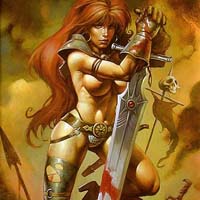 Red Sonja, the She-Devil with a Sword, is a fictional character, a high fantasy sword and sorcery heroine created by Roy Thomas and Barry Windsor-Smith. She first appeared in the Marvel Comics's Conan the Barbarian #23 (February 1973).
Red Sonja has become the archetypical example of the fantasy figure of a fierce and stunningly beautiful female barbarian who typically wears armor resembling a bikini or lingerie.
The character now appears monthly in her own series, Queen Sonja, as well as a series of mini-series and one-shots, all published by Dynamite Entertainment.
The origin story for Red Sonja, "The Day of the Sword", first appeared in Kull and the Barbarians #3 by Roy Thomas, Doug Moench, and Howard Chaykin, and was later redrawn by Dick Giordano and Terry Austin for The Savage Sword of Conan, issue 78.
Read more about Red Sonja at Wikipedia
Official Site: Roy Thomas
Researched by: r.m