The Hostel killers

CBUB Wins: 0
CBUB Losses: 3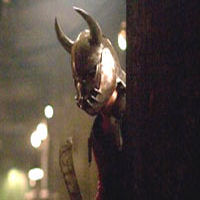 Hostel is a 2005 horror film written, produced and directed by Eli Roth, starring Jay Hernandez, Derek Richardson, Jennifer Lim, Eythor Gudjonsson and Barbara Nedeljáková. Eli's original script was developed by Quentin Tarantino, who also acted as producer on the movie. Due to the graphic nature of this film, its showing has been restricted in certain countries. The sequel, Hostel: Part II, was released on June 8, 2007.
Two college grad students, Paxton (Jay Hernandez) and his friend, Josh (Derek Richardson), along with their Icelandic friend Óli (Eyþór Guðjónsson), are backpacking together across Europe on vacation. After being thrown out of a discothèque in Amsterdam, the three visit a brothel, where Josh chickens out of having sex with a very attractive prostitute. When they return to their hostel, they meet a Russian man named Alexei (Lubomir Bukovy) who informs them about an undocumented hostel in Slovakia filled with beautiful, American-loving women.
The three subsequently board a train on which they meet a peculiar businessman (Jan Vlasák), who (more or less) "freaks" Josh out by placing his hand on his thigh. The man moves to another cab on the train immediately after Josh expresses his obvious disapproval of such an unexpected action. The three leave the train at a small Slovakia village (although the station sign shows the name of the Czech village of Poříčany), and check into the local hostel, finding themselves sharing a room with two beautiful single women: Russian Natalya (Barbara Nedeljáková) and Czech Svetlana (Jana Kadeřábková), who entice them into joining them at a spa and a disco. At the disco, Josh is saved by the peculiar businessman whom he had unpleasantly encountered on the train after the businessman intervened and prevented him from being attacked by a gang of impoverished children constantly looking for money and bubblegum. Josh apologizes for his overreaction on the train and buys the businessman a drink, at which point the businessman assures him there are no hard feelings. Later that night Paxton and Josh have sex with Svetlana and Natalya, respectively.
A young Japanese backpacker, Kana (Jennifer Lim), approaches Paxton and Josh, who are searching for Óli, informing them that her friend, Yuki (Keiko Seiko), is strangely missing as well. An MMS photo sent from Yuki's phone shows Yuki and Óli beneath a smokestack of an abandoned factory, with the word "Sayonara" written in Japanese beneath it. A while later, they spot a man wearing Óli's jacket, and follow him to a museum of medieval torture relics, but when confronted, the man just claims the jacket is his. Not long after, Paxton and Josh receive a second MMS photo message from Óli's phone, in which their Icelandic friend appears in a closeup face shot with the text "I go home" accompanying the image. Then, the scene shifts to the source of the photo, revealing Óli's severed head sitting on a table in a dark, dungeon-like room with a man in surgeon-like attire leaving the room, and about to torture a young woman. Under a feeling of intense discomposure and suspicion, Paxton and Josh decide to leave Bratislava with Kana the following day. Paxton later notices that the MMS photo of Oli and Yuki has been faked. Although Josh is anxious to leave immediately, Paxton talks him into staying just one more night, so they can have sex with Natalya and Svetlana one more time. Josh reluctantly agrees. Later that night, while partying with Natalya and Svetlana, Paxton and Josh pass out, having been slipped tranquilizers. Josh stumbles back to the hostel while Paxton passes out in the disco's storage room, where he is inadvertently locked in for the night.
Read more about The Hostel killers at Wikipedia
Official Site: Lions Gate Films
Researched by: agustinaldo