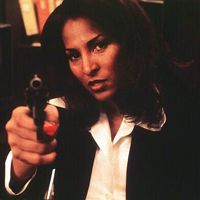 Jackie Brown
CBUB Wins: 1
CBUB Losses: 3
Win Percentage: 25.00%
Added by: agustinaldo
Read more about Jackie Brown at: Wikipedia
Official Site: Miramax Pictures
Jackie Brown is a 1997 American crime film written and directed by Quentin Tarantino. It is an adaptation of the novel Rum Punch by American novelist Elmore Leonard and pays homage to 1970's blaxploitation films. The film stars Pam Grier, Robert Forster, Robert De Niro, Samuel L. Jackson, Bridget Fonda and Michael Keaton. It was Tarantino's third film following his successes with Reservoir Dogs (1992) and Pulp Fiction (1994).
Grier and Forster were both veteran actors but neither had performed a leading role in many years. Jackie Brown revitalized both actors' careers. The film garnered Forster an Academy Award nomination for Best Supporting Actor, and Jackson and Grier were nominated for Golden Globe Awards.
Living in the Los Angeles area in 1995, Jackie Brown (Pam Grier) is a flight attendant for a small Mexican airline, the latest step down for her career. Despite the low pay, the job enables her to smuggle money from Mexico into the United States for Ordell Robbie (Samuel L. Jackson), a gun runner under the close watch of the ATF.
Ordell learns that another of his workers, Beaumont Livingston (Chris Tucker), has been arrested. Fearing that Livingston will become an informant in order to avoid jail time, Ordell arranges for his bail with bondsman Max Cherry (Robert Forster) and promptly leads Livingston to his death. Acting on information Livingston had indeed shared, ATF agent Ray Nicolette (Michael Keaton) and LAPD detective Mark Dargus (Michael Bowen) intercept Jackie as she arrives in the United States with Ordell's cash and some cocaine that Brown was unaware was stashed along with the cash. She initially refuses to deal with Nicolette and Dargus, so is sent to jail on possession of drugs with intent to sell. Sensing that Jackie may be just as likely to inform as Livingston had been, Ordell arranges her bail. Max Cherry arrives to pick her up and, only partly masking his physical attraction, offers to buy her a drink and help determine her legal options.