James Sunderland

CBUB Wins: 3
CBUB Losses: 0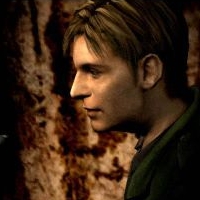 Silent Hill 2 is a survival horror video game for the Sony PlayStation 2 developed by Team Silent and Konami, and published by Konami. The second installment in the Silent Hill series, it was released in late September 2001 in North America and Japan, and in late November 2001 in Europe. It was also ported to the Xbox and PC. It has also been re-released multiple times, including under the Greatest Hits label and as part of The Silent Hill Collection along with its indirect PS2 sequels Silent Hill 3 and Silent Hill 4: The Room.
While it is set in the series' namesake town, Silent Hill 2 is not a direct sequel to the events and characters of the first Silent Hill game. Instead, it centers on James Sunderland, who enters the town after receiving a letter written by his deceased wife, saying she is waiting for him in their "special place" in Silent Hill. Joined by Maria who resembles her except for a more provocative outfit and personality, he searches for her and discovers the truth about her death. Additional material in re-releases and ports included Born from a Wish, a sub-scenario which focuses on Maria before she and James meet.
Silent Hill 2 uses a third-person perspective and gameplay places a greater emphasis on finding items and solving riddles than combat, similar to the first Silent Hill. Psychological aspects such as the gradual disappearance of Mary's letter were added to the game. More humanoid than their counterparts in the preceding game, some of the monsters were designed as a reflection of James' subconscious. Real-life references to history, films, and literary works can also be found in the game.
Silent Hill 2 was positively received by the audience and critics. Within the month of its release in North America, Japan and Europe, over one million copies were sold, with the greatest sales in North America. English-language critics praised the atmosphere, graphics, story, and monster designs of Silent Hill 2, but criticized the controls as difficult to use. Silent Hill 2 appeared on several critics' top lists for its story and use of metaphors, psychological horror, and taboo topics.
Read more about James Sunderland at Wikipedia
Official Site: Konami Digital Entertainment
Researched by: lemming