Freddy Krueger

CBUB Wins: 51
CBUB Losses: 53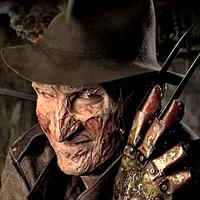 Freddy Krueger is a fictional character from the A Nightmare on Elm Street series of horror film. He first appears in Wes Craven's A Nightmare on Elm Street (1984) as a disfigured dream stalker who uses a glove armed with razors to kill his victims in their dreams, which ultimately results in their death in the real world. However, whenever he is put into the real world, he has normal human strength and vulnerability. He was created by Wes Craven, and has been consistently portrayed by Robert Englund since his first appearance. In the 2010 remake, however, Krueger is portrayed by Academy Award-nominee Jackie Earle Haley.
Krueger is undead, and can attack his victims from within their own dreams. He is commonly identified by his burned, disfigured face, red and dark green striped sweater, brown fedora, and trademark metal-clawed brown leather glove. Wizard magazine rated him the 14th greatest villain, the British television channel Sky2 listed him 8th, and the American Film Institute ranked him 40th on its "AFI's 100 Years... 100 Heroes and Villains" list.
Robert Englund has said many times that he feels that the character represents neglect, particularly that which is suffered by children.
Freddy Krueger is the primary antagonist in all the Nightmare on Elm Street films, and was officially killed off in part six, Freddy's Dead: The Final Nightmare. The character was brought back in Wes Craven's New Nightmare by Wes Craven, who had not worked on the film series since the third film. The silver screen is not the only place Freddy Krueger has appeared; there are literary sources that have expanded the universe of Freddy, as well as adapted the films and adjusted various aspects of Krueger's backstory. The character has also hosted his own television show, Freddy's Nightmares, which was an anthology series similar to The Twilight Zone. Freddy also made several guest appearances on the syndicated puppet show DC Follies in 1988. In 2003, Freddy battled fellow horror icon Jason Voorhees from the Friday the 13th film series in the theatrical release Freddy vs. Jason, a film which officially resurrected both characters from their respective deaths and subsequently being sent to Hell in their respective 'last films'. The ending of the film is left ambiguous as to whether or not Freddy is actually dead, for despite being decapitated, he winks at the viewers. (A sequel featuring Ash from The Evil Dead franchise was planned, but never materialized on-screen. It was later turned into comic book form in Dynamite Entertainment's Freddy vs. Jason vs. Ash.)
Read more about Freddy Krueger at Wikipedia
Official Site: New Line Cinema
Researched by: The Dog