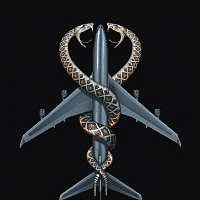 Snakes on a Plane
CBUB Wins: 6
CBUB Losses: 14
Win Percentage: 30.00%
Added by: Grover Junior
Read more about Snakes on a Plane at: Wikipedia
Official Site: New Line Cinema
Snakes on a Plane is a 2006 American horror /thriller film directed by David R. Ellis and starring Samuel L. Jackson. It was released by New Line Cinema on August 18, 2006 in North America. The film was written by David Dalessandro, John Heffernan, and Sheldon Turner and follows the events of hundreds of snakes being released on a passenger plane in an attempt to kill a trial witness.
The film gained a considerable amount of attention before its release, forming large fanbases online and becoming an Internet phenomenon, due to the film's title, casting, and premise. In response to the Internet fan base, New Line Cinema incorporated feedback from online users into its production, and added five days of reshooting. Before and after the film was released, it was parodied and alluded to on television shows and films, fan-made videos, video games, and various forms of literature.
Released in the United States and United Kingdom on August 18, 2006, the film received generally good reviews with 68% of reviews positive and an average normalized score of 58%, according to the review aggregator websites Rotten Tomatoes and Metacritic, respectively. Despite the immense Internet buzz, the film's gross revenue did not live up to expectations, earning US$.25 million in its opening weekend. The film grossed US$62 million worldwide before its release on home video on January 2, 2007.
After witnessing gangster Eddie Kim (Byron Lawson) commit a murder in Hawaii, Sean Jones (Nathan Phillips) is escorted by FBI agents Neville Flynn (Samuel L. Jackson) and John Sanders (Mark Houghton) on a Boeing 747-400 to testify in a trial in Los Angeles. Despite increased security for the flight, Kim arranges for a time-release crate full of venomous snakes to be placed in the cargo hold in an attempt to bring down the plane before it reaches Los Angeles International Airport (LAX). To ensure the snakes attack the passengers without being provoked, he has one of his henchmen spray the passengers' lei with a special attack pheromone.
No match records for this character.