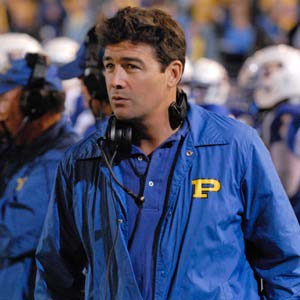 Eric Taylor
CBUB Wins: 4
CBUB Losses: 0
Win Percentage: 100.00%
Added by: Magnamax
Read more about Eric Taylor at: Wikipedia
Official Site: NBC
Eric Taylor is a fictional character and the central protagonist in the NBC/DirecTV (The 101 Network) drama television series Friday Night Lights played by Kyle Chandler. He is introduced as the head coach of the Dillon High School football team, the Dillon Panthers. At the end of the first season, he accepts a position as the quarterback coach at the fictional Texas Methodist University (TMU), where he had served as an assistant coach. After the birth of his second daughter, he leaves TMU in the second season to return to Dillon and once again coach the Panthers. Following a conspiracy by Joe McCoy in season three, Taylor is replaced as Panthers' coach by Wade Aikmen, his assistant, and instead offered the chance to start a new football program at East Dillon High School after Dillon, Texas is redistricted. The character was positively received as it was included on several best lists and earned Kyle Chandler a number of award nominations, notably winning an Emmy Award in 2011.
It is stated throughout the series that Coach Taylor grew up in Texas and played football as a young man. It is also hinted that he knew his wife, Tami, in high school and that they married fairly young.
Before becoming the head coach of the Dillon Panthers, he was the Quarterbacks coach, Junior High School, and Junior Varsity coach for 6 years. He was Jason Street's QB coach throughout Pop Warner, Junior High, and High School. Due to Jason's past success under Coach Taylor's tutelage, he was promoted to High School head coach prior to Jason's senior year.
As a coach, Taylor is firm but fair to his players and is against nepotism. It is thought he gained this characteristic while a prodigy to the great Enda, who Coach Taylor once stated "is a legend." This put him at odds with Joe McCoy, and ultimately led to his ousting and subsequent transfer to East Dillon High. He is held in high regard as a "molder of men" and greatly respected by his players, many of whom lacked a father figure or significant male role model in their lives and saw him as a surrogate father. As his former star quarterback, Jason Street, once says to him, "You [Taylor] will always be my coach". His high school counselor-turned-principal wife, Tami, often grouses about how the lines between football and academics at Dillon High are blurred and the fact that there is the perception that football players can get away with anything. Nonetheless, his strong sense of morality is seen a number of times, such as when he suspends Smash Williams for using steroids, personally apologizes to a student who was beaten up by one of his hot-headed defensive ends, Bobby Reyes, and does not hesitate to punish players for disobeying rules, whether on the field or off. He has a dislike for anything that distracts his players, and is actively opposed to media attention and the hype surrounding his team.
No match records for this character.