| | |
| --- | --- |
| Character sourced from: Gaming | |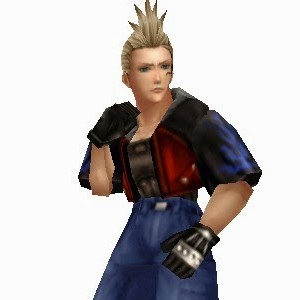 Zell Dincht
CBUB Wins: 0
CBUB Losses: 1
Win Percentage: 0%
Added by: JohnnyChany
Read more about Zell Dincht at: Wikipedia
Official Site: Square Enix
Final Fantasy VIII, a 1999 best-selling role-playing video game by Squaresoft, features an elite group of mercenaries called "SeeD", as well as soldiers, rebels, and political leaders of various nations and cities. Thirteen weeks after its release, Final Fantasy VIII had earned more than US$ million in sales, making it the fastest selling Final Fantasy title at the time. The game has shipped 8.15 million units worldwide as of March 2003. Additionally, Final Fantasy VIII was voted the 22nd-best game of all time by readers of the Japanese magazine Famitsu in 2006. The game's characters were created by Tetsuya Nomura, and are the first in the series to be realistically proportioned in all aspects of the game. This graphical shift, as well as the cast itself, has received generally positive reviews from gaming magazines and websites.
The six main playable characters in Final Fantasy VIII are , a loner who avoids vulnerability by focusing on his duty; , an outspoken and passionate young woman who follows her heart; , an instructor with a serious yet patient attitude; , an energetic martial artist with a fondness for hot dogs; , a cheerful girl who loves trains and flies the airship Ragnarok; and , a marksman and womanizer who uses his charm to mask his insecurities. Temporarily playable characters include , , and , who appear in "flashback" sequences; SeeD cadet-turned-antagonist ; and sorceress . The main antagonist is , a sorceress from the future who wishes to compress time.
In Final Fantasy games, scenario writer Kazushige Nojima stresses the dynamic of the relationship between the player and the main character; thus, he puts significant thought into how that relationship will develop. With Final Fantasy VII, protagonist Cloud Strife's reserved nature led Nojima to include scenarios in which the player can select Cloud's responses to certain situations and dialogue. With Final Fantasy VIII, which also features a reserved lead protagonist in Squall, Nojima wanted to give players actual insight into what the protagonist is thinking, even while other characters remain uninformed: this led to the inner dialogues Squall has throughout the game.
Character designer Tetsuya Nomura, while exchanging e-mails with director Yoshinori Kitase between development of Final Fantasy VII and Final Fantasy VIII, suggested that the game should have a "school days" feel. Nojima approved of the idea, as he already had a story in mind in which the main characters were the same age. Thus, they created the concept of military academies, called "Gardens", in which students would train to become "SeeD" mercenaries. Nojima also planned for the two playable parties featured in the game—Squall's present day group and Laguna Loire's group from twenty years in the past—to highly contrast with. Laguna's group consists of a close-knit group of battle-hardened friends in their late twenties. On the other hand, Squall's party is young and inexperienced, and Squall himself does not initially understand the value of friendship.
No match records for this character.