| | |
| --- | --- |
| Character sourced from: Horror | |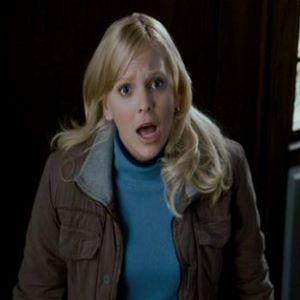 Cindy Campbell
CBUB Wins: 0
CBUB Losses: 1
Win Percentage: 0%
Added by: SSJRuss
Read more about Cindy Campbell at: Wikipedia
Official Site: Dimension Films
Cindy Campbell is a fictional character from the Scary Movie franchise. Portrayed by Anna Faris and created by Shawn Wayans, Marlon Wayans, Buddy Johnson, Phil Beauman, Jason Friedberg and Aaron Seltzer, the character first appeared as a high school student in Scary Movie (2000). In the film, whose main parodies are the Scream and I Know What You Did Last Summer franchises, Cindy shares a role similar to Sidney Prescott and Julie James.
Faris would reprise her role of Cindy in the film's sequels. In Scary Movie 2, Cindy is attending college and with her friends, goes to Hell House for Professor Oldman's experiment. Here, her role is based on Eleanor Vance from The Haunting. In Scary Movie 3, where her role is based on Rachel Keller from The Ring, she is portrayed as a news presenter and has a nephew, Cody. After seeing a cursed tape, she tries to break the curse before seven days pass and she dies. In Scary Movie 4, where she parodies Karen Davis from The Grudge, Cindy is working as a caregiver in a haunted house and attempts to stop an alien attack with the help of Brenda.
Up until the fourth installment, Faris and Regina Hall, who portrayed Brenda Meeks, were the only cast members to appear in every installment of the franchise. Faris didn't return for Scary Movie 5 and Cindy was replaced by Ashley Tisdale's character, Jody Sanders. Critical response to Faris' portrayal has been positive.
Cindy is a high school student attending B. A. Corpse High School with her boyfriend Bobby Prinze. Their friends include Brenda Meeks, Buffy Gilmore, Ray Wilkins and Greg Phillipe. Despite being in a committed relationship with Bobby, the two of them still haven't consummated their relationship. Following Drew Decker's death, it's revealed that one year prior, the six of them had accidentally ran over a man while drinking. While the man was unharmed, they didn't notice and after accidentally knocking him unconscious, dumped his body at a pier. Later the same day, she notices Ghostface outside her classroom and a note on her desk telling her that "they know what she did last Halloween". After being attacked by Ghostface, she assumes that Bobby is the killer and gets him arrested. After the real killer calls her, she decides to invite her friends to keep each other safe. Thanks to Shorty, the small get-together turns into a party. After having sex with Bobby, it's revealed that he is gay and in a relationship with Ray. Despite killing Shorty, they reveal to her that they're copycats of the real killer who appears and kills both of them. After knocking him out, Cindy is taken to the police station where she realizes Doofy, Buffy's brother, is the killer. Despite running after him, Doofy manages to escape, leaving Cindy screaming in the middle of the street, only to get ran over by a car.
No match records for this character.