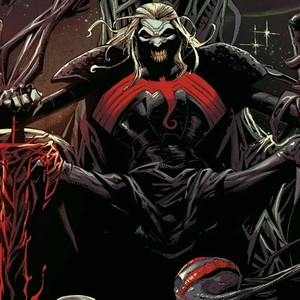 Knull
CBUB Wins: 2
CBUB Losses: 1
Win Percentage: 66.67%
Added by: Movie-Brat
Read more about Knull at: Wikipedia
Official Site: Marvel
Knull is a fictional supervillain appearing in American comic books published by Marvel Comics, commonly in association with Venom and Carnage. The character is depicted as an evil deity, who created the weapon known as All-Black the Necrosword and the alien races known as the Klyntar and Exolons. The character would go on to play a more important role in the Marvel Universe.
The character was first introduced in Venom #3 (Aug 2018), giving a nod to a nameless being appearing in Thor: God of Thunder #6. The character would be mentioned in various issues of Web of Venom, Guardians of the Galaxy and "War of the Realms".
After that, Knull was revealed to be the antagonist in Donny Cates' Silver Surfer: Black #1.
Knull is a primordial deity, created when the First Firmament was shattered into pieces and forced to flee in terror and was originally content to drift through the endless void of space created by the shattered pieces until the Celestials arrived and began creating the 7th iteration of the Marvel Universe. Awakened by the "Light of the Creation" and outraged by his kingdom of darkness being despoiled, Knull retaliated by creating All-Black the Necrosword and killing one of the Celestials. Seeing this, the other Celestials banished Knull and the severed head deeper into the Void. He then used the head to forge the symbiote and combined it with the cosmic energies of the head, which would eventually become Knowhere. In doing so, he unintentionally gave the symbiote its weaknesses to sonic attacks and fire. He created a symbiote armor and, with All-Black, started killing the other deities, until he crash landed on an unnamed planet where Gorr took All-Black and incapacitated Knull. Knull eventually reawakened and discovered he could bond his living abyss to "lesser creatures" and control their new form as vessels. He created an army of symbiotes with himself in the center of the hive mind and uses them to spread over the universe, establishing the Symbiote Imperium and killing the light and creation in the process.
No match records for this character.