| | |
| --- | --- |
| Character sourced from: Toons | |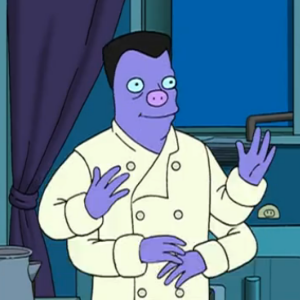 Elzar
CBUB Wins: 5
CBUB Losses: 0
Win Percentage: 100.00%
Added by: Venom 2009
Read more about Elzar at: Wikipedia
Official Site: Comedy Central
Along with the employees of Planet Express, Futurama includes a large array of characters, which include co-workers, media personalities, business owners, extended relatives, townspeople, aliens, and villain. Many of these characters were created for one-time gags, background scenes or other functions in the Futurama universe. A number of them have gained expanded roles and subsequently starred in their own episodes. Other characters started out as background characters, and have been used to personify new roles later on in the series.
The main characters are listed first; all other characters are listed in alphabetical order. Only main, supporting, and recurring character are listed, with brief descriptions of the main and supporting characters also given. Futurama is an American animated science fiction sitcom created by Matt Groening and developed by Groening and David X. Cohen for the Fox Broadcasting Company. The series follows the adventures of a late-20th-century New York City pizza delivery boy, Philip J. Fry, who, after being unwittingly cryogenically frozen for one thousand years, finds employment at Planet Express, an interplanetary delivery company in the retro-futuristic 31st century.
Philip J. Fry, primarily known by his surname Fry, is the main protagonist of the series. He is a 20th century pizza delivery boy in New York City who, after getting dumped by his girlfriend and being stuck in a dead-end job, is cryogenically frozen on December 31, 1999, waking up 1000 years later just before the year 3000. After meeting Bender and Leela, the trio find employment at the Planet Express delivery company, owned by Fry's distant descendant Professor Farnsworth. Ironically, Fry becomes the delivery boy for Planet Express after rejecting his predetermined job of being a delivery boy upon waking up in the future. Fry is a goofy, dim-witted, slovenly but well-meaning individual. The series follows his transition from the 20th century to the 31st century. Fry is voiced by Billy West, who uses an impression of his own voice at age 25 to create Fry's voice.
Leela (full name Turanga Leela) is the female lead of the series. She is a one-eyed mutant who Fry meets after waking up 1000 years in the future. Originally working as a career assignment officer for cryo-preserved people waking up in the future, Leela quits her job after meeting Fry, joining him and Bender at Planet Express where she becomes the delivery ship's captain. She is one of the few characters in the cast to routinely display competence and the ability to command, and routinely saves the rest of the cast from disaster, but suffers extreme self-doubt because she has only one eye and grew up as a bullied orphan. She first believes herself an alien but later is revealed to be the least-mutated sewer mutant in the history of 31st-century Earth. Leela is also an environmentalist. The series also follows the relationship between Fry and Leela, as they start off as friends but later develop feelings for one another. Leela is voiced by Katey Sagal.
No match records for this character.