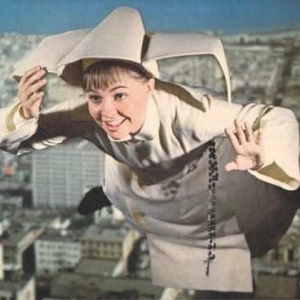 The Flying Nun
CBUB Wins: 1
CBUB Losses: 0
Win Percentage: 100.00%
Added by: Nate86
Read more about The Flying Nun at: Wikipedia
Official Site: ABC
The Flying Nun is an American sitcom produced by Screen Gems for ABC based on the 1965 book The Fifteenth Pelican, written by Tere Rios. It starred Sally Field as Sister Bertrille. The series originally ran on ABC from September 7, 1967, to April 3, 1970, producing 82 episodes, including a one-hour pilot episode.
Developed by Bernard Slade, the series centered on the adventures of a community of nuns in the Convent San Tanco in San Juan, Puerto Rico. The comic elements of the storyline were provided by the flying ability of a novice nun, Sister Bertrille.
In the hour-long series pilot, Chicago native Elsie Ethrington arrives in San Juan from New York City after her arrest for having been involved in a protest; she then adopts the name of Sister Bertrille. It is also later learned (in the episode "My Sister, The Sister") that Sister Bertrille comes from a family of physicians, and that she is the only member of that family who did not follow in their footsteps. She instead became a nun, joining the Convento San Tanco, after being impressed by the missionary work of her aunt, and broke up with her boyfriend of eight months, a toy salesman.
Sister Bertrille could be relied upon to solve any problem that came her way by her ability to catch a passing breeze and fly. This was generally attributed to her weighing under 90 pounds (41 kilograms), high winds at the Convent high on the ocean bluffs, and the large, heavily starched cornette that was the headpiece for her habit. (The cornette was based on one worn until the middle 1960s by the Daughters of Charity, although Sister Bertrille was never said to belong to that order. Indeed, the order which included the Convento San Tanco was never actually specified in the series.) Her flying talents caused as many problems as they solved. She explains her ability to fly by stating, "When lift plus thrust is greater than load plus drag, anything can fly." In one episode, she tries to gain weight so she could stay grounded, but the attempt fails. Additionally, in the first-season episode "Young Man with a Cornette," she specifically tells a young boy who intended to use her cornette to fly that there were many factors other than her weight (which was distributed differently from that of the boy) that made her flying possible. She was unable to take off only when heavy rains or storms caused her starched cornette to lose its shape, when she had to wear something that would keep her grounded at all times, or, on one occasion, when an inner ear infection caused her to lose her balance. (See the episode titled "The Flying Dodo.")
No match records for this character.