John Holliday by The Zodiac
| | | | | | |
| --- | --- | --- | --- | --- | --- |
| | TEAM: Freelance Villain | | SECTOR: Science | | KIT CLASS: Arcane Lore |
---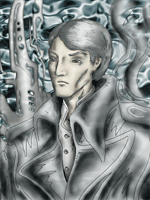 Hall Of Fame!

Survival - 8 wins!
Fight Record
League Wins: 8
League Losses: 3
Out Of League Wins: 0
Out of League Losses: 0
Total Wins: 8
Total Losses: 3
Khimena Ferris - Win 0-0
"The Eliminator" - Win 0-0
Kitsune - Win 0-0
Sentinel of the Fae - Win 0-0
Vincent Moeror - Win 0-0
Girlfriend in a Coma - Win 0-0
Thor: Silent Thunder - Win 0-0
Jesper of the Road - Loss 0-0
Beatrice Guasconti - Loss 0-0
Jal Nicabar - Win 0-0
Blackthorne - Loss 0-0


I was named John Holliday. I don't know why, but at the age of seven my vat-grown memory began to fluctuate, developing alternate neural pathways, new connections and coordinations... Name? John Holliday. No, that is not your name. Report to cell 14. New connections, they did not belong, race memory they called it, historical images blasted into the surface of the human memory, impossible to shake off. But I was not human, under law. I report to the room, cold, stripped of my Toy, Shell taken from me, a barren hospital gown my only inheritance. The lights grow whiter and hotter... I was named John Holliday by the age of ten, my memory fluctuating, neural paths and connections developing in ways they shouldn't... Name? John Holliday. No, that is not your name. Report to cell 14. Race memory they called it, but that was not quite right. I report to the room, wondering what is to become of Shell and my Toy, my lovely... The lights.... My name is John Holliday, and from the moment of my birth, my artificially grown mind in my bioengineered brain was developing new paths, nerve growths that shouldn't be. My Shell, and Toy, adapted to these new patterns, their make-up altering as I began growing into someone they never... Name? John Holliday. No, that is not your name. Report to cell 14. Cold floor, lights brighter and hotter than the sun, alone without Shell and Toy, I wonder... I am John Holliday, the nerve pathways in my body evolved radically different than all the attempts made by the bioengineers intended. I am not as they made me, Shell and Toy are my only friends, artificial intelligences adapted to me, adapted to adapt in truth, reinforcing my past, my present, my future - my legacy handed down from the past, my purpose handed down from the future. I am become that which has lurked in the surface of the mind for centuries, that doomed figure of a certain intent, not a true reproduction or a reflection, but an imagining of him, as he has been reshaped by the years. My past is not my twelve year lifespan, but that of... Name? John Holliday. That is- John Holliday. -Is not your- John Holliday. -Your name. That is not- And Shell unfolds herself, twisting around my body like a cloak of madness (or a long, gray trench coat), brushing my boots. And Toy slips into my hand without my even reaching for him, not Toy now, Sixgun, his childish appellation lost to the truth of history. Report to cell 14. M-Guns make a ratcheting sound as they focus, Shell blunting their impacting, crying, but only I can hear her. That is not your name. I crouch, my movements informed by nerves and motions I was never meant to have or to know, and my hand moves in a flash, though still childishly clumsy. But Sixgun makes up for my youthfulness. Report to cell- Sixgun fills the once ascetic Progress Interview chamber with noise and smoke. Holy mother of God he's- And then blood. Lock the chamber! Lock it d- And then pain. My name is John Holliday. The M-Guns choke on their ratcheting, the chamber is suddenly still, and quiet... I realize a concept that comes to me from the past. I am free? What is free? I did not know my purpose then... I was never free.
Personality: This message is just a recording. If you are hearing me now, you have reached the future. Hello, John. A weapon of choice is a weapon of style. I don't hold a weapon, I don't pick it up, it's no tool, it's me. I am as superficial as you think, I am the edge of my sword, the cold glass of my flechettes. My weapon is a personal extension, a biological expression. This is not over-compensating, this is literal representation. I am not a murderer or killer, but a soldier of reality. Self-destructive? I radiate destruction. What is the universe but a yawning, open wound, crying out for penetration. What is life itself, a fascination with the end of things, the finality, the very last of the last of the last. In the end, you cease to exist. In the end, I cease to exist. I will be nothing, and so I am nothing. I have my metaphoric earthly representations of my selfness, but I may just find that I am... not... really... there. Do you look deep within yourself and wonder what it is that you really are, besides finite? To be finite is to be dead from the start, and what is everything but finite. This is not entropy, order, or the void. This is the end, the grand finale, the last curtain call. Days end and nights end. Stories end. Worlds end. Life ends, and life begins. Maybe it's just an abstract concept you've invented to allow yourself some small comfort, to make some small sense of that tricky bitch time. Yes, it could be all a part of your imagination, but the fabric of reality lacks self-assertiveness. You dream of the certainty of a conclusion, and you bring an ending with it. You invented the end. You made me. Maybe. Beginnings are another story entirely. But so be it, you've disinherited something I think, and now where one leaves off you can hardly tell. I don't know where what I have leaves off from me, just a pack of cards maybe. It was a symbiotic relationship, it was a good relationship, but now it's gone a bit beyond that. Relationship? What? What am I saying? Yes, I'm not really a person per say, I was made, correct, or born, perhaps? When your past is not dictated or certain it doesn't necessarily matter. I'm not sure which story to follow and in truth it may be that I'm coming to my own ending. Yes, I think I've colluded with myself a bit too much, my toys and my darling shell have become a bit too much a part of me, we're not really what we used to be. Name...? Yes... name... age... height... weight... I remember... Listen...
Strength:

Weak BELOW normal human strength -
can bench press 50 pounds (maybe).
Agility:

Superior This fighter can dodge, weave and move
with the grace of an Olympic gymnast.
Body:

Standard Normal human endurance.
Mind:

Supreme Brilliant to the point of supra-genius.
Can easily think many many moves ahead.
| | |
| --- | --- |
| | The Shell |
| | |
| --- | --- |
| | Sanctuary, Love, Center |
| | |
| --- | --- |
| | The Scalpel |
| | |
| --- | --- |
| | Assault, Conclusion, Extremity |
| | |
| --- | --- |
| | Fate, Selection, Direction |
| | |
| --- | --- |
| | Singularity |
| | |
| --- | --- |
| | Infinite |