This one was zapped by the hackers and I can't reconstruct it fully. I don't remember what battle wrap or plot threads were on it. I can catch you up on the basic conflict but (and I'm sorry for this) I don't have it in my to redo the full write up.
--------------------------------------------------------------------------------------------------------------
The story thus far.
The Chameleon had been doing corporate espionage for David Xanatos and had picked up some very sensitive files from Wayne Enterprises (plans for secret bat-themed weapons and equipment.)
The Creeper had been following Chameleon (Chameleon is almost identical to an old creeper for called Proteus and, for this arc, I'm assuming they're the same) and tried to grab him, but Chameleon gave him the slip. Creeper (as Jack Ryder) followed Chameleon to NYC but the trail went cold. Jack decided to give his old journalism school friend, and brilliant investigator, Vic Sage, a call to see if he could help.
Chameleon ran across Ryder and asked his confederate, Mysterio, to deal with him. After a tough battle, Mysterio captured Creeper and brought him back to the old theatrical warehouse that he, Chameleon and Tinkerer are using for their HQ. Chameleon wanted to put a bullet in his head but Mysterio talked him out of it in favor of something more theatrical.
In the meanwhile, Chameleon sold the information to Xanatos, who is using it in several of his plans. He also went behind Xanatos' back to sell the information to Norman Osborn. Norman used some of the weapons designs for his own Green Goblin project.
Xanatos had Bruce Wayne over for a poker night and arranged for the Pack to attack. This was to confirm that Wayne was secretly Batman. That worked, but the Green Goblin also showed up and Xanatos deduced that Chameleon had sold the secrets to Osborn. He ordered Owen Burnett to deal with Chameleon.
Vic Sage searched in vain for Jack Ryder. He couldn't find him but heard of the Creeper/Mysterio fight. He put some facts together and deduced that Creeper was Ryder and that an ally of Chameleon's had captured him. He had heard rumors of Chameleon working for Xanatos so he went to the Eyrie Building and interrogated Owen Burnett. Owen saw a chance to get rid of Chameleon without any trail that could lead back to Xanatos. He agreed to take Question back to Chameleon's HQ.
------------------------------------------------------------------------------------------------------
Chameleon is in his office, which sits in a small room overlooking the warehouse floor. It's connected to other parts of the building with catwalks. He is alone as Tinkerer is out working on a project for the Big Man, and Mysterio is field testing some equipment.
There is a knock on the door. It's Owen Burnett claiming to be there with a new job from Xanatos. He opens the door and Question shoves a bound Owen in the door. Chameleon has a pistol and Question is unarmed. The fight will doubtless move out onto the catwalks and possibly to the warehouse floor. Owen has his hands zip-tied behind his back and will not be a factor.
Chameleon is the version from Spectacular Spider-man.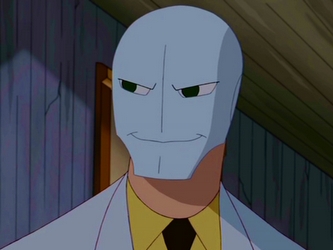 Question is the version from Justice League Unlimited:
So... who does the yellow shirt and black tie better?
Or you can just tell me who wins the fight.